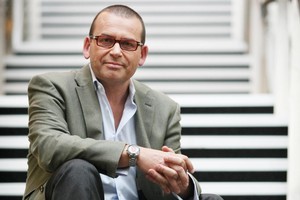 New Zealand's big two television companies are waging a public relations war over who is winning the ratings battle in news and current affairs - a fight that will crank up when controversial broadcaster Paul Henry enters the fray in coming months.
Just this week, TVNZ had to back down from claims TV3's flagship show 60 Minutes was bleeding audience numbers as both companies ramped up the PR game.
Despite their respective claims, an independent ratings analysis of the main news and current affairs programmes reveals that both channels are performing consistently with how they have done in previous months.
TV3's new breakfast programme Firstline attracted an average of 15,740 viewers in the key 25-54 demographic in the past month, compared to Breakfast's 63,070.
In the 6pm slot, TV One had 213,780 viewers compared to 175,640 watching 3 News.
On the PR front, MediaWorks, which owns TV3, trumpeted its ability to react to breaking news events such as the Japanese tsunami in a series of newspaper ads.
TV3 news and current affairs boss Mark Jennings said, "I do feel like we had beaten them on Pike River, on Christchurch earthquake, on the Japanese earthquake. We wanted to point out that we outperformed the opposition on the biggest stories."
TVNZ news and current affairs PR boss Andi Brotherston put out a press release incorrectly claiming that 60 Minutes had lost "almost 300,000 viewers per week since February".
TVNZ later apologised for the error.
Jennings said TVNZ appeared to be "rattled".
He said: "It's war every day - but there are periods when it's more intense. I think Firstline is having a big impact. It's definitely taken some share off Breakfast."
Brotherston agreed competition was strong: "There is always a battle. But we haven't done anything different from what we normally do. It might appear like there is a battle going on, but that is simply because they have come out with their comparative campaign."
A new front in the news war begins tonight, when 60 Minutes shifts from Wednesday to compete head-to-head with TVNZ's Sunday.
Jennings said 60 Minutes was working on a story about Paul Henry's exit from TVNZ, to be screened in the next few weeks.
And Jennings said he had discussed Henry having a role in their news and current affairs department.
"I think he will end up with his own gig. He has told me that he's very open to doing whatever we might ask him to do."
Former TVNZ head of news Bill Ralston said the hostilities could create a higher quality of news and current affairs.
He said: "Viewers should win out, we should be getting a better quality programme. I think there is always an element of brand loyalty but if they see a good programme on the rival channel..."
Despite the PR claims, media commentator Michael Carney said the latest figures in the key 25-54 demographic were consistent with previous eras.
He added that moving 60 Minutes to Sunday had the potential to change the dynamic.
"But you would have to put a Paul Henry into the news bulletin to really shake things up."