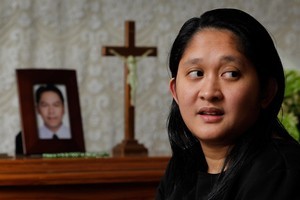 Benedict Dacayan got up on Tuesday morning, had breakfast, said goodbye to his wife Jeanette and two children and went off to work.
It was like any other day - until 3.15pm, when Mr Dacayan, 37, was killed by the 200km/h tornado that ripped through his Albany work site.
Mrs Dacayan has not slept since Tuesday, the day her heart was broken and her dreams destroyed.
Instead, she sits beside her husband's coffin in the living room of their Glenfield home, talking to him and praying for him.
She knows he is there with her, and she knows she will see him again.
"I talk to him; it is comforting. It's very hard. At the back of my mind I am scared, but I've got to be strong," she told the Herald yesterday in an exclusive interview.
"I asked him to give me a sign that he's happy where he is now. When I first saw him in his coffin it looked like he was smiling at me.
Maybe that's my sign, the sign that he's happy.
"I love him very much ... I miss him so much. I always told him that when I died, I would wait for him in heaven. Now he's the one that died first and I hoped he's waiting in heaven for me."
The Manila-born couple moved to Auckland in April 2006 with their son Benedict Jnr, now 11. Daughter Beatrice was born four months later.
Mr Dacayan was a qualified civil engineer, but worked as a quantity surveyor for Fletcher Construction.
He was part of a team demolishing the old PlaceMakers building near Albany mall when the tornado hit, picking up the portable cabin he was in and hurling it across a carpark.
Despite the frantic efforts of bystanders to resuscitate him, he died at the scene.
His wife was working in a central city office at the time.
"The first I knew was when Hamish from Fletcher Building called me. He said there had been an accident and Benedict had been critically injured."
She raced to North Shore Hospital, not knowing what to think.
"I was praying he was just injured and not dead. I was hoping that I could still talk to him."
But he was not there and it took staff some time to find out that he had not arrived at the hospital.
Mrs Dacayan was eventually sent to the North Shore policing centre, where officers told her her husband had been killed in the tornado.
"They told me they believed Benedict was dead, but it wasn't confirmed. We were escorted to the mortuary. I had to identify his body.
"On the way there I started to prepare myself for if he was really dead. I also started trying to accept it and think about what my next move would be."
Once the formal identification was over, Mrs Dacayan sat with her husband's body before returning home to tell their children.
"When I told them, my son asked, why his father? ... I just told them that dad is here. Physically we don't see him, but he's around us, looking after us.
"They miss him very much, especially Benedict. He can understand a lot more. He was very close to his father - his father was his idol."
The family are Catholic and went to a mass on Tuesday night, praying for Mr Dacayan and finding solace in prayer.
"At first I was so angry," said Mrs Dacayan. "I said, 'Why? Why did he leave us?' I have two young kids, why was he gone."
"I was scared. But I need to be strong. He was always there for me. He was my best friend. I don't have a best friend now."
Mr Dacayan will stay at home with his family until his funeral next week. His wife and extended family are taking it in shifts to sit with him - their tradition states he cannot be left alone. Candles burn at either end of his coffin, which is surrounded by flowers and adorned with a crucifix and rosary beads.
"I want to spend the most time I can with him before his burial," Mrs Dacayan said, her daughter snuggled up asleep on an armchair nearby.
The couple met at school more than 20 years ago, and travelled the world together - Mr Dacayan's job took them to Malaysia, Moscow and Haiti, then New Zealand.
"We were planning to retire here," Mrs Dacayan said. "He worked in many different countries, but we wanted our final destination to be New Zealand. I didn't think he would die here so soon."
Mrs Dacayan said her husband was a quiet and private man, more of a listener than a talker.
"He didn't speak much, but you could feel his love. He was a good dad and a good provider. He wanted to make sure our children were taken care of."
Mrs Dacayan will stay in New Zealand, but cannot bear to stay in the home she shared with her husband.
"I'm planning to move house. It is too hard to stay here with all the memories. We did everything here together; now I have to do it all by myself."
She has no plans to visit the place where her husband died.
"I don't ever want to go back there. I'm not prepared to even go to the mall at Albany. I don't ever want to see that place again."