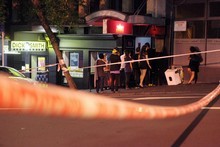 A man almost bashed to death in central Auckland saw his battered face in the mirror for the first time yesterday and was shocked at his injuries.
Damon Matthews, 18, is recovering in the neurological ward at Auckland City Hospital after he was attacked on Wyndham St by at least 10 men in the early hours of Thursday.
The South Auckland storeman's sister, Hanna, told the Weekend Herald: "Damon saw himself in the mirror for the first time yesterday.
"He called himself ugly. But I said, 'you're alive, that's the main thing'. It doesn't matter how bad his face is, he's still here.
"He's doing good, but ... he can't remember anything, it's all a blur."
His attackers had been refused entry at a nightclub and rushed the bouncers. Mr Matthews tried to break the fight up and was punched to the ground. He was then kicked in the head by a group of men as his sister Hanna watched in horror, unable to get to him.
Morris Kahui, a security guard at the Herald, saw the attack and rushed to help. Trainee nurse Bryar Ward gave Mr Matthews CPR when he stopped breathing.
"I know that Morris and the trainee nurse saved Damon's life," said Miss Matthews.
She said her brother would have to have another head scan in five days to see whether he needed facial reconstructive surgery.
And she revealed that her cousin was stabbed in the stomach with a pocket knife during the bashing.
"It's quite a long gash. But he's okay. He's more worried about Damon."
By Anna Leask @AnnaLeask

Email

Anna