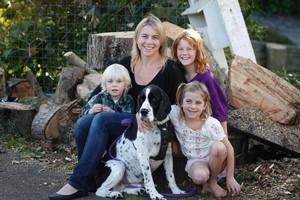 Friends Ruby Straight and Dariah Parkinson were jumping in puddles as the school bell rang, signalling home time, on Tuesday.
Moments later, a tornado was spotted heading towards the school; sending students, teachers and parents running for cover.
Six-year-old Ruby's mum, Chantal Straight, was running late to pick her daughter and 10-year-old friend Dariah from Verran Primary School that day.
It was raining heavily and there were no parks near the school, so she parked on nearby Roseberry Ave and rushed off with son Olly, 3.
The family dog, Smudge, stayed behind in the car.
"Ruby and Dariah wanted to muck about for a little bit, playing in the puddles and I thought: 'Oh that's okay, I'm not going anywhere'," Mrs Straight said.
"I was looking towards these dark clouds in the sky and I thought: 'Oh my God, they're turning into a twister.
"I was doubting what I was seeing, when I turned to see this man whose son was playing in the puddles too. His face just changed and he just started screaming to his son to get in the car."
Mrs Straight yelled at other youngsters playing to get inside, as parents plucked their children and ran off, while others ran towards classrooms.
Mrs Straight, daughter Ruby, son Olly and Dariah rushed towards a classroom with another parent, a woman, and a group of children.
"She couldn't close the door and we were all screaming to shut the door. It was all a bit of a panic."
The group huddled inside and watched the tornado, as Mrs Straight and the woman tried to comfort the children, a number of who were upset.
"We sort of just waited there for a few minutes, just waiting for it to stop," she said.
"We weren't sure whether it was going to come back but then we decided we should make a run for it."
As the group came in view of the car, they were shocked to see that a tree had smashed down on to it, leaving a dent on the driver's side.
"The girls were just like, 'Oh no! Smudge! We all ran to the car and luckily the dog was okay. He's quite a big dog but he was sitting on the passenger seat."
"[If we hadn't waited] We could've been walking under the tree or anything. It was a bit freaky thinking about it. I could've been in there and it freaked me out."
Mrs Straight said a payout was refused by their insurance company as tornadoes were not part of their insurance cover.
"It's a bit disappointing. The wing mirror's hanging, one of the front lights is smashed and there's a dent in the roof, but we're all okay."