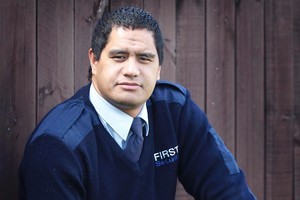 A security guard has told how he jumped in to stop a teenager being brutally beaten by up to eight men, a decision that probably helped save the youth's life.
Morris Kahui, who works at the Herald, saw the fight unfold at 2am Thursday outside the Pyramid Night Club opposite the newspaper's Wyndham St offices in central Auckland.
"There were six or eight guys trying to get into a club and the bouncers were refusing to let them in," the 26-year-old said. "They tried to rush the bouncers and then a fight broke out."
Damon Matthews, an 18-year-old storeman from South Auckland, tried to stop the fight but was king-hit by one of the group and fell to the road.
"They were just booting him, kicking his head," Mr Kahui said. "I ran from my post and across the road. I pushed some guys out of the way, away from him, and put him in the recovery position."
Mr Kahui, who had already called 111, knew he had to step in.
"It was just an automatic thing. I saw the kid on the ground and I just ran. It was pretty scary."
Mr Kahui held the youth while student nurse Briar Ward and another witness tried to help. "It was pretty gruesome. There was blood rushing through his head everywhere. He was pretty battered," said Mr Kahui.
A Herald employee who also saw the fight said: "He just went out like a bloody light, flat on his back. He didn't move. It looked bloody bad. It was quite sickening."
Mr Matthews' sister Hanna was with him and watched on in horror as he was stomped and kicked, unable to stop the attack.
"They were just kicking the s**t out of him. I couldn't do anything, they just wouldn't let me anywhere near him," said Ms Matthews. "I felt helpless. I was trying to get to him. He was just lying there unconscious."
Ms Matthews said it was terrifying watching strangers trying to save her brother's life. "He was lying there in a pool of his own blood. He stopped breathing at one point. I really thought that was going to be the last time I would see him."
Damon Matthews was taken to Auckland City Hospital and spent hours in the emergency department.
He was transferred to the neurological ward in the afternoon and Thursday night was still critical, but conscious.
Hanna Matthews and other family members are staying at his bedside.
"He's in the neuro ward to see if he will need brain or facial reconstructive surgery," she said. "They need to wait until the swelling goes down.
"He's been talking to us. He knows where he is and what day it is but he has no recollection of what happened."
Police are collecting CCTV and security footage of the area where the attack happened.
"We are treating this as a very serious assault," said Detective Sergeant Andy King. "We would very much like to talk to anyone who has any information that would help us identify who is responsible for this attack."
Ms Matthews said her brother was a nice, easy-going guy who kept out of trouble.
"He loves everyone. How could they do it? That was an innocent person on the ground."
Any information can be given to Mr King at Auckland police on 302-6400.