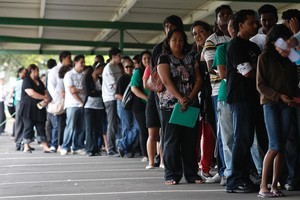 Almost 10,000 sickness beneficiaries will have to look for work from this week, despite queues of able-bodied workers lining up for most available jobs.
The final stage of the Government's Future Focus welfare reforms, which came into force on Monday, requires all sickness beneficiaries assessed as being able to work 15 to 29 hours a week to look for suitable part-time work.
Work and Income head Mike Smith said 9800 of the 59,500 people on sickness benefits had been assessed by their doctors as capable of some part-time work, although some were already working part-time and others would be exempted from the work test because they were not capable of working 15 hours.
"Once a decision has been made that a sickness beneficiary will have work obligations, they will be sent a generic letter to advise them the date the work obligations will apply from," he said.
"From that date, the client will need to be actively seeking and available for part-time employment."
But Mr Smith said Work and Income would take "a phased approach" and would work actively with only 3000 sickness beneficiaries with work obligations at a time.
North Shore beneficiary advocate Pam Apera said affected beneficiaries started contacting her last week - many with psychological problems.
"The psychological stuff that I'm seeing is basically a fear of working because they have been out of the workforce for so long," she said.
"I'm saying to them: 'Don't panic. A lot of it is a threat. Work and Income don't have the jobs to support it."'
Combined Beneficiaries Union advocate Mike Dark said much of the available work was only casual.
"We have some clients who went along to interviews and there have been 100 other people for a cafe assistant job," he said.
In March data released yesterday, the national unemployment rate was 6.6 per cent, a slight easing from the 6.8 per cent at the end of last year. But sickness benefit numbers have jumped from 55,796 to 59,582 over the past year.
Beneficiary Advocacy Federation spokeswoman Kay Brereton said this reflected a harder line on people applying for the invalid's benefit, which is limited to applicants who have no chance of working in the next two years.
"We have noticed a real increase in people applying for invalid's benefit being put on to sickness benefit, and people on invalid's benefit being moved off on to sickness benefit," she said.
However, specialist agencies supporting people with mental disabilities into jobs said the employment situation had improved.
Warren Elwin of national agency Workwise said his group found jobs for more than 70 per cent of the people referred to it before the recession. This dropped to 56 or 57 per cent this time last year and was now back up to 61 or 62 per cent.
THE NUMBERS
59,500 people on sickness benefits.
9800 of those will be told to look for work.
3000 a time to be "phased in" to new approach.
6.6pc unemployment rate.