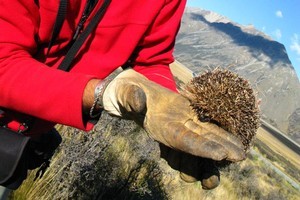 A study has found hedgehogs have huge territories and travel up to 1km in five hours as they munch on native wildlife.
Researchers at the University of Otago attached mini global positioning satellite devices to 28 of the creatures to investigate how far they ranged and their effect on native birds, lizards and insects.
The Conservation Department lists them as pests - their cute appearance is at odds with the damage they do to native flora and fauna.
The mammals were released in the Godley Valley in the Mackenzie Basin, where birds in braided river valleys are at the greatest risk.
Their position was collected every five minutes for five days. Researchers were surprised by the relatively large distance the hedgehogs covered, and the speed at which they moved on their short legs.
Wildlife biologist and PhD candidate Mariano Rodriguez Recio said some hedgehogs' home range was as great as 95ha.
"We also found a hedgehog can move as far as 1km rambling and foraging along a track in about five hours."
Preliminary results showed that hedgehogs did not follow linear patterns like other species, but did not move completely randomly either.
The GPS data, overlaid on high-resolution satellite maps, will be used to identify "hotspots" which the creatures frequent. This will allow better management and trapping of populations. The lightweight GPS locators allowed scientists to collect positions in any landscape or weather.
The findings of the study - a combined project by the university's School of Surveying and its zoology department - have been published in a European journal.
WHAT A LIFE
* Hedgehogs have no natural predators in New Zealand.
* They're considered pests by the Department of Conservation.
* They were introduced in the 19th century to control insects and garden pests.
* They eat the eggs of ground-dwelling birds, as well as grand skinks and weta.