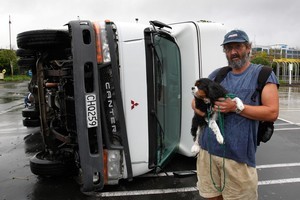 An American couple and their dog, who lost their campervan in the tornado, were flooded with offers of accommodation yesterday.
The campervan Robert and Linda Ahbel were using to tour the country was thrown 100m across Albany Westfield shopping centre's carpark during the tornado with their treasured dog, Louie, inside.
Louie escaped unharmed, but their possessions did not and the couple were desperately trying to find temporary accommodation on Tuesday night.
Yesterday the Herald was inundated with offers of places for them to stay.
Mrs Ahbel said she was overwhelmed by the offers and very grateful for the generosity.
"But because we sailed here, we luckily had our boat so we don't need to take anyone up on their offers, but I'm very, very thankful," she said.
The couple lost a number of their possessions, along with the rental campervan. However, Mrs Ahbel said they were most worried about their Cavalier King Charles spaniel which cost nearly $10,000 to bring into New Zealand.
Louie, who was still shaking hours after his ordeal and suffering a bloodshot eye, was checked by a vet that night.
"He's okay now and is back to normal, taking all the pats and laps he can get."
Among the offers of accommodation was a campervan, a bach at Mangakino, a house on Auckland's North Shore and a room in Hillsborough.
Mrs Ahbel said the couple and Louie are fine living on their boat until the next clear patch of weather so they can sail on to Australia.