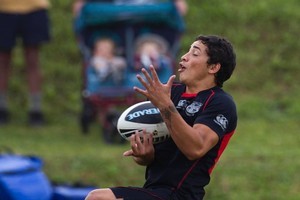 Warriors league player Kevin Locke was one of the first on the scene after the tornado tore through an Albany mall.
Locke was having lunch with friends at Nando's across the road from Westfield Albany shopping centre when he heard a loud noise approaching.
"The woman at the counter in Nando's happened to be looking out the window and said, 'what's that tree doing in the air?' She told us all to get under cover.
"When I saw it move over to the PlaceMakers and ripping off the iron on the roof I was thinking, 'what the hell is this?' I grabbed my phone out and got a little bit of footage and took a couple of photos."
He said he was "too scared" to go outside until the twisting wind had passed, but once it was safe he ventured out to assess the damage.
"I was just being nosey and was checking out to see if anyone was hurt.
I saw all the cars that had flipped. I ran across the road and saw the guy who died. It was really disturbing and pretty scary. I saw him on the ground and what had happened to his head and face.
"There was a massive puddle of blood. There were other people around him who were checking his pulse and tried to do as much as they could. I left it up to them and stepped back. There wasn't much I could do."
Locke then went to another man who was covered in bandages after he was crushed by a beam of wood during the tornado.
"I have never experienced anything like that. It was the scariest thing I have ever been in. It's really hard to explain. I was very shocked and upset and so were the people I was with. We never expected anything like this to happen."
Locke said a prayer for those who were hurt, but he said he didn't get much sleep that night.
- NZ Herald staff