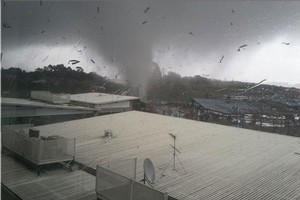 A pregnant woman's car was "completely screwed" in yesterday's tornado and had it struck a minute later, she would have been sitting inside it.
Rebecca McLennan is five months pregnant and was shopping at Westfield in Albany when the tornado hit.
She was walking towards the exit to go to the carpark when the drama began, forcing shoppers back inside the mall.
Ms McLennan is one of many people who had near-misses and lucky escapes when the 200km/h funnel descended on the North Shore suburb.
"I was walking out of the mall. If I had been one minute earlier it would have been all over, rover," Ms McLennan said.
"The sirens started to go off in the mall and a man's voice came over the loud speaker saying 'evacuate the building'. But no one was doing that."
She said staff in stores were ducking for cover behind counters as shoppers began to move to safety.
One man started yelling for everyone to make their way to the middle of the mall where there was no glass.
"I didn't know whether it was an earthquake or not. The whole place was shaking, stock was flying around.
"Then I saw the twister. It was black and like a funnel. It had stuff blowing around inside."
She got to her car and it was "completely screwed".
"It's not good, the windows [are] smashed out and every panel is scratched. And then you hear people died ... I think I'm pretty lucky."
SpecSavers employee Monique Virtue, 22, was travelling up the escalators on her way back to work after a break.
"I heard a humungous thud and glass was falling. I turned around and ran down the escalators as they were coming up," she said.
"Everybody was crying and screaming. I felt like the whole ceiling was going to cave in. At the bottom of the mall glass was everywhere."
She lost her phone as she ran for safety into Toyworld, while glass and debris fell all around her.
Ms Virtue was lucky to escape unharmed and quickly headed outside to try to find her colleagues.
She said the ordeal was terrifying but like many inside the mall, she didn't realise what had happened.
"I thought it was an earthquake - a tornado didn't get into my mind. It was very, very scary."
Teresa Tomata, 21, was working in Wild Pair and also thought the tornado was an earthquake.
"We just heard the shelves rattling and a loud bang. It was crazy. One minute we are doing our work and the next minute we are running for it," she said.
"As we were running out we just saw it [heading away from the mall]. We could see anything in its path was pretty much gone."
Aeron Rogers was a passenger in a car driving north on Bush Rd when he saw the tornado coming straight for him.
"We were waiting at the lights, I knew exactly what it was ... my mate was driving and I was trying to get him to turn around. Because I could see PlaceMakers go up into the air."
The two turned around and sped down Bush Rd, managing to avoid the worst of the tornado. It went all the way along the road, lifting some of the roofs off, and then went straight across Glenfield. "All the roofs have been sucked up ... it stopped for a second, it would have dropped everything into the forest."