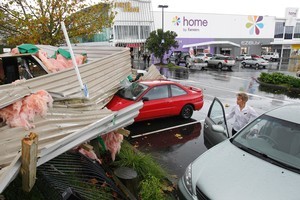 Shocked residents watched in a mixture of amazement and terror as large sheets of iron, car parts and the odd trampoline rained down on their properties during yesterday's tornado.
The tornado's indiscriminate path caused damage to homes and streets, hammering some and leaving others close by untouched.
In Rosedale, on the North Shore, roofing iron believed to have come from the Albany PlaceMakers store at least a kilometre away, was seen blowing across the top of homes before crash landing in yards.
A man who wanted to be known only as Les told the Herald he went outside his Burnside Court home after hearing what sounded like a train coming.
"It looked like the dump had been blown away."
He initially thought the sky was littered with paper but quickly realised the objects fast approaching were sheets of roofing iron.
"I ran inside and we could see a trampoline and roof sheets flying past our house."
The Rosedale resident's home and those of most of his neighbours suffered significant damage as the tornado passed. Most had tarpaulins covering broken and missing roof tiles last night.
"About a quarter of our roof has gone into our neighbours," said Les.
His neighbour, Brett Rhodes, was heading out to collect his daughter from school when he heard a noise and saw "all this grey stuff".
"It took a few look-ups [at the sky] before it clicked." Mr Rhodes ran for his front door but struggled to get the key in the lock to turn.
"By that time the tornado was basically sucking at me."
With strong winds swirling around his body Mr Rhodes grabbed the door and frantically worked the key and managed to get inside, just in time.
One family moving into a new home in Red Shed Lane were left homeless after the tornado badly damaged their roof, causing water to drip into three bedrooms and a bathroom.
The tornado dwindled as it headed across the harbour, but still managed to cause some damage before it fizzled out in Pt Chevalier.
The damage in the area appears confined to Pt Chevalier Rd and Harbour View Rd. A bus shelter was smashed by a falling tree, fences in the area have been torn down and some garages heavily damaged.