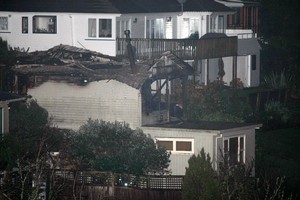 One person is dead after a blaze witnesses described as "huge pillars of smoke and billowing flames" gutted a North Shore home.
North Shore CIB are investigating the fire that destroyed the top unit of a three-storey house on East Coast Rd in Browns Bay about 5pm yesterday.
Detective Senior Sergeant Kim Libby said the body was too badly burned to say whether it was a man or woman.
He could not comment further because police were still in the early stages of the inquiry.
Neighbour Brendon Morley, who lives behind the house, said his wife raised the alarm by calling 111 when she saw flames bursting through the roof of the top rental flat.
"She's too traumatised to speak now, because someone died," Mr Morley said.
"She saw it through the kitchen window. She saw flames erupting through the roof just after 5 o'clock. She just grabbed the kids and evacuated the house."
Northern fire communications shift manager Steve Smith said a fire safety team were investigating the cause of the fire, but their efforts were hampered last night because of the bad weather.
"They'll go back in the morning and have a look around and should know more after that."
He said the fire was so intense that it reached "third alarm", meaning more than 50 firefighters and at least five fire trucks were called to the scene.
The Fire Service had received initial reports that several people were inside the building, which was ablaze when emergency services arrived.
However, an ambulance spokesman said no one else was injured in the fire.
Craig Peterson, who lives a few houses down from the fire, said the flames were more than 8m high.
"They were huge. The tops of the trees next door caught fire. And every time the firemen tried to put water on it to put it out, the wind whipped the fire back way into the air," he said.
Mr Peterson said a woman dressed in her nightgown was standing in the backyard of the burning house, watching the flames. "She got out, she was safe, but she was standing and looking up at the huge fire upstairs."
He heard a series of explosions coming from the blaze which sounded like gas bottles exploding.
A man who lives about half a kilometre away said he ran to the fire after he heard the explosions.
"I could see these huge pillars of smoke and billowing flames, and there were lots of bangs. The wind whipped around the fire and it kept going up and up," he said.
The man, who asked not to be named, said the fire was contained to the top floor of the house and the bottom unit remained almost untouched by the blaze.
"It was quite incredible, the wind made sure it stayed on the top floor."