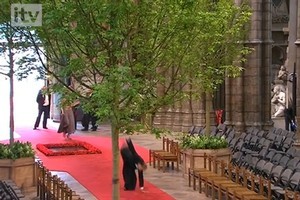 An officer at Westminster Abbey shocked the world when cameras caught him doing cartwheels down an aisle after the royal wedding - but a professor from his University of Auckland days just chuckled nostalgically.
On the video clip, Ben Sheward, 46, laughs with obvious delight as he looks around, takes a little hop, and falls forward in two clumsy cartwheels that just sneak into the corner of the footage.
The mischievous act has become an internet sensation, but Westminster Abbey is reportedly trying to keep a lid on the story.
"The verger has been spoken to a number of times and has been advised how to handle the situation," an official told the Daily Mail.
For 10 years, Mr Sheward has been one of the abbey's vergers, laymen who help with religious services wearing black cassocks.
"It's just the perfect place for him," said retired University of Auckland music professor Warren Drake.
In a previous life, Mr Sheward lived in Auckland, going to school in Howick and studying music history at the university. He had been adopted by an older English couple who migrated to New Zealand.
Dr Drake said Mr Sheward's sense of humour had always been obvious - at the start of terms, he would draw caricatures of professors for incoming students on the blackboard.
"He was quite the character around the school," Dr Drake said.
Mr Sheward gained a bachelor of arts in English and music from the university in 1986, then went on to complete a master of arts in music in 1990.
One of his most salient traits was how much of an anglophile he was.
"His parents were quite the old imperial types, and he was always more English than the English," Dr Drake said.
Mr Sheward's masters thesis was written on the quintessential English composer Edward Elgar.
"I think the title was 'Elgar and Englishness'."
After university, Mr Sheward disappeared overseas - until a classmate found that he had taken up a job at Westminster Abbey, immersed in English history.
"Everybody agreed that was just the perfect job for him," Dr Drake said.