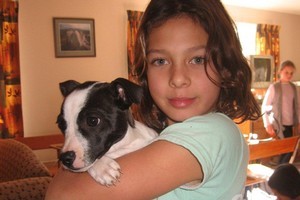 A 10-year-old girl has died after falling from the back of a ute driven by her best friend's father.
Sophia Wallace and her friend, also 10, were riding on the back of the ute on Lyndon Rd, near Waiau, about 80km southwest of Kaikoura.
The pair were helping the other girl's father move stock on a farm and as they were driving back on to the road Sophia fell from the deck.
Labour Department guidelines say children should not be allowed to ride on tractors, all-terrain vehicles or on the back of utes. The guidelines were introduced after the deaths of 10 children on farms in the five years to 2009.
Canterbury Road Policing Manager Inspector Al Stewart said Sophia's death was totally preventable.
It was still being investigated by police and no decision had been made about whether charges would be laid.
Sophia's grandad Peter Wallace, who has raised her since she was nine weeks old, said she was with her closest friend when she died.
"She had stayed the night with her best friend and was helping the girl's dad move stock," he said. "He went over a bump and she flipped off the back and hit her head."
Wallace was called and immediately drove to the farm.
"Her friend was on the ground begging her not to die. She didn't regain consciousness. It was a pretty savage hit on the head.
"I arrived and said a few prayers. The emergency services were there. They fought for hours to save her."
He said the farmer, Raoul Sitters, was a "real mess".
"I feel really sorry for him," Wallace said. "The greatest gift God gave us is the ability to forgive. At first I was in shock and I was a bit harsh to him. I need to go and see him and talk to him. We are really close to the family."
Sophia was "an absolutely amazing person", her grandad said. "She had no fear.
"She was totally fearless. She could climb a tree higher than any boy.
"She was in the Scouts and a leader at the local Christian kids club. She was a great reader.
"She wanted to be a teacher. She was beautiful, just stunning. It's a real loss.
"She had a wonderful life. We still can't believe it. We are really shattered. She was my life."
Sophia, her brother Troy, 13, and sister Jaime, 8, lived with Peter and his wife Jules in Waiau. Another sister Nada, 11, lives in the North Island. The family had just celebrated Troy's 13th birthday.
Her father Thomas Simmons lives in Palmerston North and her mother Richelle Wallace lives in Wanganui.
Yesterday, Richelle said: "She was amazing.
"She had a good sense of humour and was beautiful. I wanted her to come home and live with me."
Federated Farmers national president Don Nicolson said his thoughts were with Sophia's family and the farmer.
"It's an absolute tragedy for the family of the little girl and the farmer will be feeling absolutely distraught and going through hell.
"We are forever trying to educate people to be safer. If it was working why do we still have tragedies?
"I've lived on farms since I was born and if I didn't do what those little girls were doing I would be still wrapped in cotton wool. You just can't wrap people in cotton wool."
North Canterbury Federated Farmers president Neil Stott said farmers needed to be allowed to stand on the back of utes.
"If you are feeding hay bales you have got to be on the back to throw it off," he said. "It is up to the driver to be very careful with their driving and give due care and attention to where they are driving if they have people on the back."
But Safekids director Ann Weaver said the children should not have been riding on the ute. "In any moving vehicle everybody should be restrained, especially children."