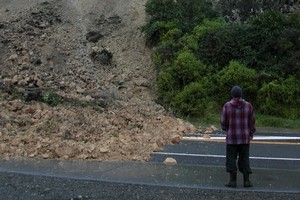 The rain has eased on sodden Hawke's Bay as the mop up from this week's extreme weather begins.
But residents in the town of Wairoa should prepare to not have access to the water mains for several days after a landslip early this morning damaged the town's water supply, Civil Defence says.
Engineers were working on fixing the water main, which was ruptured by a landslip caused by the severe weather which has pounded Hawke's Bay this week, Wairoa Civil Defence emergency management officer Tim Allan said.
But it could be several days before the water main was back in use, he said.
"They [residents] need to start conserving water immediately, so doing the washing and having long showers is just not necessary.
"We've got water in our storage tanks and we need to conserve that for as long as we need to."
Civil Defence on Thursday declared a state of emergency for the region after extreme weather forced the evacuation of more than 100 people from 14 coastal communities.
It was not yet known when the state of emergency would be lifted, Central Hawke's Bay Civil Defence emergency management officer Bruce Kitto said.
"We've got building inspectors going out to the coast to start building inspections and stuff like that and then we're getting into notifying people of what the situation is with their properties."
There had been no more evacuations or road closures overnight.
Earlier, Kitto said some central Hawke's Bay residents who live on the coast would not get back to their homes until after the weekend.
More than 50 people have been evacuated by helicopter or four wheel drive vehicles after heavy rain caused floods and slips throughout the region.
He said at this stage none of the beaches which are completely cut off - such as Kairakau, Mangakuri, Pourerere and Blackhead, will be open until at least Monday.
Aromoana is expected to be cut off for up to three weeks.
Up to five children were evacuated by helicopter from Aramoana and eight people by four-wheel drive from Mangakuri yesterday.
Central Hawke's Bay mayor Peter Butler told Radio New Zealand the state of emergency powers were needed to ensure dangerous roads were not used and to deal with issues such as water supply.
He expected the state of emergency would remain until at least Monday.
The worst of the damage appeared to be centred on about 6km of isolated coastline, from Waimarama in the north to Porongahau, said Federated Farmers' Hawke's Bay president Kevin Mitchell.
"That coastal band's just been hammered by the storm. Heavy slipping on the steeper coastal hills, and obviously debris on the valley floors and anywhere where fences were on ridge tops, they've been swept away in a lot of areas," he told NZPA.
There had been reports of stock losses, but it was hard to know until the cleanup began, he said.
"I don't think it'll be significant, but you only need one farmer to have a crop on a flat in a valley somewhere and a couple of hundred lambs worth over a hundred dollars each to be a significant loss, so hopefully that hasn't been the case."
- NZPA, NEWSTALK ZB