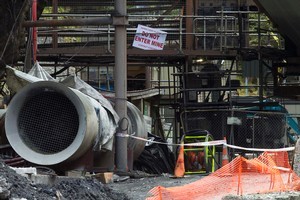 Footage taken in the wake of a deadly explosion at the Pike River mine may have revealed a body and evidence someone survived the blast.
Police said a forensic pathologist was "very highly suspicious" he had detected a fully clothed person lying face down in the mine while reviewing footage taken down a borehole in February.
Assistant Commissioner Grant Nicholls said new camera technology was being imported from the United States to confirm the discovery.
"Initially it was unclear as to the nature of an object in the mine.
"To be sure, police requested that Dr Martin Sage, a senior forensic pathologist, view the video images and make an expert opinion on one of eight images. Dr Sage indicated last week that in his view the shape is suspiciously that of a body.
"It is important to note that the images we currently have are not that clear. More refinement and interpretation of what currently appears to be a body is needed."
The footage had also revealed an equipment box containing a fire extinguisher had been opened in the mine, Mr Nicholls said.
However, it appeared two other boxes, thought to contain breathing apparatus, were closed.
Bernie Monk, spokesman for the families of the 29 men who died in the tragedy, said the footage was evidence miners had survived the initial explosion at Pike River.
That had hurt families who had just been told their loved ones had died within minutes of the blast on November 19, he said.
"The families were gutted - just gutted. It's opened new wounds for a lot of them. They think 'there was hope'"
Families were looking to use the footage to campaign for police and mines rescue to relaunch a recovery operation at the mine, he said.
Receivers had limited funds and little will to mount a recovery despite the evidence there was a chance of recovering bodies, he said.
"In that sense, it gives a real hope of purpose. Our will is this will go beyond the receivers.
I always said I didn't want the Government to leave. The receivers have limited money. I think and the families know it is in their interest to have the police back."
He said some mines rescue staff stationed in Greymouth had resigned because they were not being allowed to mount a recovery operation.
Grey District Mayor Tony Kokshoorn said the news was "extremely sad".
"It is the type of news which heightens the anxiety levels of all the people down here, particularly the families," he said.
That the discovery rescue box had been accessed proved to Mr Kokshoorn a rescue team should have accessed the mine straight after the initial November 14 blast, when he said gas levels would have been lower.
"If that is correct ... obviously the miners survived the first blast and attempted to access air supply," Mr Kokshoorn said.
"Whether they could have been rescued or not - I don't know. It depends on how long they survived."