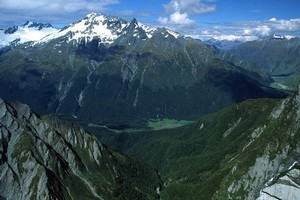 Police have named two men killed after their helicopter crashed in mountainous terrain in Mount Aspiring National Park yesterday after their bodies were recovered this afternoon.
They were pilot Graham Alan Stott, 31, from Wanaka, and student Marcus Hoogvliet, 21, from Frankton, Queenstown.
Their Robinson 22 helicopter was found about 9am today on the Arawhata Saddle, at the head of the Matukituki River, about 50km north-west of Wanaka, during an area search.
The two men were found dead at the scene and their bodies were recovered about 3pm today after police sent a ground crew and helicopter to the scene, Wanaka Senior Sergeant Allan Grindell told NZPA.
Rescue Coordination Centre (RCCNZ) mission coordinator Keith Allen earlier said two emergency locators on the helicopter helped narrow down the search area.
RCCNZ launched a search for the helicopter about 3pm yesterday, after it was two hours overdue from its return to Wanaka.
The chopper was on a training flight from Wanaka to Haast and back, with a trainee pilot and instructor on board.
Helicopters searching with night vision equipment last night picked up faint signals from an emergency beacon in the area.
Searchers then got increasingly strong signals from the beacon, and narrowed down the search area around 3km southwest of the pair's last known position.
The crash is the latest involving a Robinson R22 but the Civil Aviation Authority has no concerns about its safety.
Spokesman Bill Sommer said the Robinson 22 helicopter was the most common helicopter in New Zealand.
CAA figures reveal 147 Robinson R22 Beta helicopters are registered in New Zealand, followed by the Robinson R44 II (105).
In total, 322 models of Robinson helicopters are registered.
Wanaka Helicopters has been training pilots for 31 years.
The company was involved in a fatal accident in 2006 when Wanaka-based pilot Keith McKenzie, 29, of Canada, and his passenger, American tourist Jonathan Stein, 61, were killed on a private sightseeing flight.