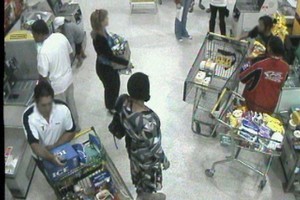 Customers who got away with free groceries from a Hamilton supermarket have coughed up what they owe after seeing themselves on CCTV footage.
But the store's owner says more need to come forward and says police action is likely if they don't.
Pak'n Save Mill St owner Glenn Miller said more than 20 people went through his unmanned store between 8am and 9.30am on Good Friday after a computer glitch caused the lights to switch on and the doors open.
While a handful took groceries worth about $50, some queued up to wait for the store's only available self-service machine.
Among those was a woman who only wanted to be known by her first name, Anne-Marie.
She thought the store was open after seeing vehicles in the carpark, so went in to buy some cat food.
"There were people at the Lotto counter and the music was on but there was nothing in the deli, nothing in the bread section - it didn't dawn on me that the place wasn't open."
She said there was a queue at the self-service checkouts where customers had mistakenly thought a passing woman was a staff member.
"Everyone was helping each other because we didn't know how to use the self-service.
"The others had jammed up because some people tried to buy alcohol."
Anne Marie said that despite it becoming clear to customers something was amiss, there was no looting.
"One guy just walked out with his shopping but most people were genuinely in there to buy their groceries - they weren't running around throwing all the expensive stuff in their trolleys before getting out of there."
Anne-Marie paid the $48 for her groceries via Eftpos. She said that when she left the store word must have got out about the staff-less supermarket as there were at least 50 cars in the carpark.
While initially angry, Mr Miller had a laugh when he saw the CCTV images.
"There were people who didn't know it was like this until they got to the checkouts, they honestly thought the place was open," he said.
"There were some people who paid and some others didn't buy anything; they just walked around and thought 'this isn't right' when they saw there was no one there and walked out again."
He said about 12 people took groceries and left without paying but after publicity about the gaffe about half of them had come forward to settle what they owed.
Mr Miller, who will not do a stocktake nor claim insurance on the stolen goods, said reports of some people taking "truckloads" of freebies were exaggerated.
He said he would forward CCTV images of those who have not paid to police if payment was not settled within the week.
TO STEAL OR NOT TO STEAL
Senior lecturer in ethics at Waikato University Dr Liezl van Zyl said that honesty was often on display during such an opportunity.
She said this was probably because of people's upbringing, education and feelings of guilt.
"I certainly think in a poorer country people would take what they could get - in the Western Cape [South Africa] where I come from, the store would have been cleaned out."
Psychologist Sara Chatwin said the return of customers to sort their debts at the supermarket showed "a strong sense of morality" but she conceded this could have been due in part to the CCTV cameras.
"It is very individually based and very dependent on what kind of rules and regulations and parameters people have in their own lives."