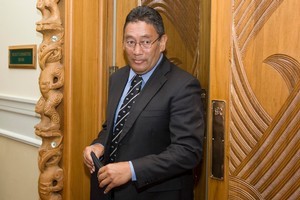 Independent MP Hone Harawira was meeting supporters in Dunedin last night, before the expected launch of his new political party this week.
Mr Harawira has also been in Invercargill recently and planned to speak in Christchurch after receiving invitations to meet southern supporters.
"People sense we could be taking this to a different level of a stronger, more independent Maori voice in Parliament," he said.
Mr Harawira, who resigned from the Maori Party in February, said he had tried to stay away from the South Island because of the devastation in Christchurch from the February 22 earthquake.
But he had received many requests to meet people in the South Island.
Those he had met were "hugely supportive" of his plans to form a new party.
Maori voters were disillusioned with the Marine Coastal Area Bill and believed the Maori Party had become too close to the National Party.
"They say they don't see their MPs any more and there is a hunger for an independent voice - the thing we marched for in 2004.
"Most people thought we had that with the Maori Party, but a woman in Invercargill told me the Maori Party has become the translation service for the National Party."
Although Mr Harawira would stand in the Maori electorate of Te Tai Tokerau, the party would be open to voters on the general roll. The new party, tentatively called the Mana Party, would be seeking list votes only at this stage, he said.
He compared himself to Act leader Rodney Hide who won Epsom but brought into Parliament other MPs off the party list.
The new party could end up with candidates standing against the Maori Party, but that would be "unfortunate".
It would depend on an agreement with the Maori Party about not standing a candidate in Te Tai Tokerau.
He understood the Maori Party had approached potential candidates to stand against him in his electorate.
There had been a "strong call" to set aside the agreement that he would not stand candidates against the Maori Party if the Maori Party did not stand a candidate against him.
Pakeha voters had also expressed guarded support for his political views, Mr Harawira said.
It started with "we don't really like you" but they appreciated that he stood up for his electorate, was regarded as honest and they wished their MPs were as open and forthright, he said.
His calls for taking GST off food and putting a ceiling on rent increases and petrol prices were supported by most New Zealanders, Mr Harawira said.
"Many voters are now looking at [Labour Party leader] Phil Goff and think he doesn't mean what he says any more.
"When he talks about policies, voters think he is just hunting for votes and not sincerely fighting for them. He is no longer a credible leader."
- Otago Daily Times