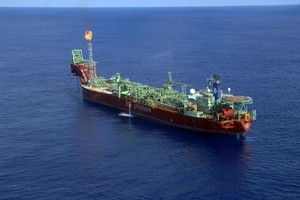 Rough weather forced the flotilla of boats protesting against deep sea oil exploration off East Cape to return to Tauranga this morning, Greenpeace says.
On Saturday morning Elvis Teddy, captain of the San Pietro, was arrested and charged with breaching the Maritime Transport Act after police boarded his boat amid protests against Brazilian company Petrobras's search for oil and gas.
Rough weather conditions meant the flotilla needed to take shelter so they returned to shore to support Mr Teddy, a Greenpeace spokesman said.
Mr Teddy was charged with operating a vessel in unsafe manner under section 65 of the Maritime Transport Act, police said.
He will appear in Tauranga District Court on Friday morning.
San Pietro is owned by East Coast iwi Te Whanau a Apanui and is part of the flotilla including Greenpeace and the Nuclear Free Flotilla.
After returning to Tauranga this morning they would stay there until after Mr Teddy's hearing, a Greenpeace spokesman said.
"The flotilla intends to continue its opposition at sea after the court hearing.
"We are inviting other boaties to join our flotilla in defence of our oceans and coastlines," Windborne skipper Avon Hansford said.
Police had not made any more arrests, a police spokesman told NZPA.
Petrobras is operating under a five-year licence granted by the Government.
A spokesman for Petrobras was unable to comment on how the protests had disrupted the survey.
The survey, which started two weeks ago, was scheduled to take up to 60 days.
The results of the survey would be assessed when it was completed and the company was hoping to find indications of gas.
Oil was unlikely, he said.
Meanwhile the Maori Party said today some people living along the East Coast believed there could be a link between the seismic testing and dead penguins turning up on beaches.
"Many of our iwi attribute special significance to the penguin as taonga species," MP Te Ururoa Flavell said.
"We would be extremely distressed if these birds are being placed at any threat to their life as a result of human-induced risks."
Mr Flavell said there was no evidence that the testing was killing the birds but the Maori Party was going to ask the Government to find out the cause of their deaths.
- NZPA