In the week of the royal wedding, Simon Collins looks at how times and traditions have changed in New Zealand since the marriage of Charles and Diana in 1981.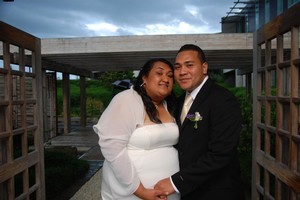 Fou and Junior Misipati's wedding was a unique mixture of Samoan tradition and the couple's own creativity.
Fou, 30 and Junior, 28, married in Falls Park in the centre of Henderson on April 15. Their church minister led the service, and Fou's cousin sang, but the couple wrote their own vows.
"We wanted the tradition, but we also wanted it our way," Fou said.
Junior picked vows that were both Christian and "romantic".
Fou had been married before. About a third of all NZ marriages since 1982 have been second or subsequent marriages for at least one party.
Fou said she had no intention of marrying again after her previous marriage ended, but relented when she met Junior in 2008. They started living together in January the next year.
"The more time we spent together, the more I did want to do it legally."
Junior said: "It was my dream. I always wanted to get married."
They invited more than 300 but held the reception in the church hall and did the cooking themselves, with help from family and friends.
Religious historian Peter Lineham said the total number of New Zealanders having religious weddings had probably dwindled in line with those in the 20-39 "marrying age group" who declared a Christian affiliation in the Census, down from 68 per cent in 1981 to 39 per cent in 2006.
Until "marriage celebrant" replaced the term "officiating minister" in the Marriage Act in 1976, only ministers and marriage registrars could officiate at weddings.
And retired bishop George Connor says the Anglican rule was that they had to be in a church. This was relaxed in the 1990s to allow weddings at marae and other places where services often took place, and only in this century to allow other places.