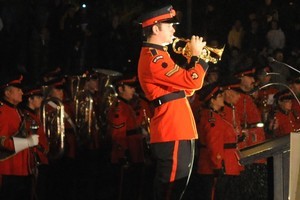 Tens of thousands of New Zealanders were not deterred by often wet weather as they gathered at war memorials and town halls for Anzac Day dawn services to commemorate the 96th anniversary of the landing of New Zealand and Australian soldiers at Gallipoli.
In Wellington, heavy overnight rain eased in time for the start of the 5.45am service at the Cenotaph as an estimated 3000 people including old soldiers, dignitaries and the Turkish Ambassador to New Zealand gathered.
The ambassador, Ali Yakital, told the service he was filled with special emotion at being part of the Dawn Service marking the anniversary of the battle of Gallipoli.
He said great mutual respect has grown out of the horrors of war.
A planned flypass by three Air Force Iroquois helicopters was cancelled because of low cloud.
Last year an Iroquis on its way from Ohakea to a dawn service fly-over in Wellington crashed killing Flight Lieutenant Hayden Madsen, 33, Flying Officer Dan Gregory, 28, and crewman Corporal Ben Carson, 25.
Sergeant Stevin Creeggan was hospitalised with critical injuries.
In Auckland thousands gathered at the War Memorial museum despite heavy rain.
The Salvation Army Auckland City Band and the Auckland Youth Choir led the crowds in singing Abide with Me.
Auckland Mayor Len Brown laid a wreath in memory of those who died and read a dedication to remember the comrades who fought for freedom on land, sea and in the air but did not return.
"We feel them still there with us in spirit. We wish to be worthy of their great sacrifice. Let us, therefore, once more dedicate ourselves to the service of the ideals for which they died. The dawn is even now about to pierce the light so let their memory inspire us with the coming of the new light to the dark places of the world," Mr Brown said.
"We've spoken of honour, of sacrifice, of kinship and of commitment. We've stood to speak and we've stood in silence. May these acts of remembering, of acknowledging and of honouring, may our very silence shape us and shake us at the core, Navy Chaplain Peter Olds said.
"May the gift that we have been given in the lives and in the deaths of those we have commemorated today produce in us works of peace, this day and each day."
A RNZAF fly-over was cancelled due to poor weather.
In Christchurch a service was not held in Cathedral Square for the first time in living memory because of the damage caused by February's earthquake.
Instead dignitaries, veterans and the public gathered at North Hagley Park.
The Christchurch service was one of the few in the country which was not dampened by rain but the numbers were down, said Canterbury District RSA president Patrick Duggan.
"There were about 600 people in the parade, but it's usually around 800 to 900. I put that down to a couple of things, our World War Two guys aren't getting any younger and the extra distance they had to come this morning may have put a few of them off."
There were around 3000 people in the crowd, well down on the 10,000-12,000 usually expected, he said.
"I think part of the problem was getting here, and people don't want to venture too far from their homes.
"But it was great to see the people there. Those who did attend obviously really appreciated the service because I've never in all my years here at the RSA in Christchurch heard so much applause. Everybody got applauded.
"The feeling was quite emotional. What made it special was that there was no wind so it was dead quiet," Mr Duggan said.
Governor-General Sir Anand Satyanand addressed the crowd.
The Christchurch RSA is closed due to earthquake damage, so people have gone to HMS Pegasus, the navy base in the city, or RSAs in the suburbs - Papanui and Paparua. A small commemoration service was also held in Redcliffs.
Mayor Bob Parker said it was a perfect morning as the weather was still and mild with a soft grey sky.
"It was just a very beautiful, very poignant service."
In Dunedin Lox Kellas, RSA ANZAC Day services convenor, told NZPA about 3000 people, from school children to veterans, attended the 6.30am service. There was a large turnout of defence and emergency services.
He was happy it didn't rain: "I had my fingers crossed the whole time," he said.
In Greymouth, about 450 people attended the dawn service at the Cenotaph this morning.
"It was marvellous," said Tom Watson, bar manager at the Greymouth RSA.
"Everyone seemed to think it went off real good. It was a bigger turnout than normal," he added.
Mr Watson said the Pike River disaster had brought people together, which might account for a large number of families at today's service.
About 2000 people attended the dawn service in Napier. A parade of veterans began outside the old Napier Court House on Marine Parade at 5.50am and marched in drizzle to the Soundshell for the service.
"It was well attended, despite the weather", said RSA vice president Joy Miller told NZPA.
In Hastings,1500 people braved the rain for a 5.30am service at the Russell St Cenotaph.
About 1000 people gathered in Hamilton for a 6am service which Hamilton Combined RSA Club president Pat Stocks said went "extremely well".
One of the most historic ceremonies is at the Tinui Memorial Cross in the Wairarapa, recognised as a site of national significance by the New Zealand Historic Places Trust.
Locals trekked to the wooden cross on April 25 1916 to mark the first Anzac Day, and it was one of a handful of sites where a memorial was erected during the war.
New Zealand service men and women will celebrate Anzac Day around the world, including in New York, Beijing and Afghanistan.
Chief of Defence Force Lieutenant General Rhys Jones will represent the Defence Force at services at Gallipoli in Turkey, which will also be attended by Foreign Affairs Minister Murray McCully.
April 25 marks the day the Australian and New Zealand Army Corps landed at Gallipoli, in what was the Ottoman Empire, and commemorates the 2721 New Zealand soldiers who died in the eight-month campaign.
Growing interest in Anzac Day, which also honours returned veterans, has swelled the ranks of people attending dawn services over the years.
- NZPA