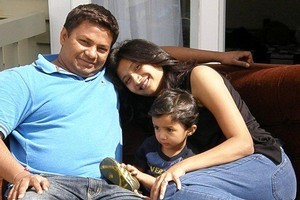 Aarush Macwan was yesterday buried surrounded by teddy bears, his favourite toys and a picture of his parents so he could "remember his mum and dad wherever he is".
The 3-year-old died on Thursday when the van he was in rolled backwards into a freezing Otago lake during a holiday with his parents Ashish and Kinnary Macwan.
They had stopped next to the lake near Cromwell so Mr Macwan could stretch his legs.
Aarush's funeral in Manukau yesterday gave his grieving parents some relief their only child was at peace.
"It seems like a weight on my shoulder has lifted," Mr Macwan said. It was an added comfort that they were able to have the "beautiful" ceremony on Easter Sunday.
He told the Herald the family wanted mourners to remember "all the good times he brought to us, all the happiness he gave for those years".
Mr Macwan - who is facing a criminal charge over his son's death - didn't speak at the service because everyone knew how he felt.
"Everything went fine and [we] prayed for Aarush. It went so beautifully with all our friends ... Everyone was crying but in a good way."
The children who played with Aarush gathered around and put small toys near his coffin, including small aeroplanes, which were his favourite.
One 14-year-old girl brought her teddy bear to the funeral. "He would always go to her room and grab that teddy and she would say 'it's mine', but she brought the teddy and said she wanted to give it to Aarush."
Mr Macwan said the priest told the service he was 110 per cent sure he was in heaven. "He said it beautifully ... If you look at the expression of Aarush it is not one of panic, he was so peaceful."
He remembered the peace on his face when the little boy was finally rescued from the water after about 45 minutes and he held him "in total anguish".
"I'm holding my son and everyone around, including the police, were crying because I didn't want to let him go."
He was thankful to the paramedics who worked on Aarush even though everyone knew he was gone.
Despite some criticism of police charging him, Mr Macwan said: "I know all the policemen are sympathetic, they were good to me ... It's their job, they have to do it."