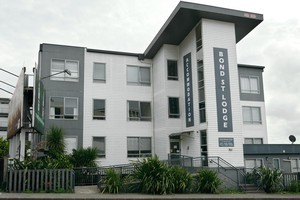 A lodge five minutes walk from Eden Park has increased its rates by up to 1000 per cent for the Rugby World Cup.
Guests who stay at Bond St Motor Lodge in Kingsland normally pay $31.43 a night for a single room if they stay for at least three weeks.
But during the tournament the lodge is charging $350 a night for a single room with shared bathroom and kitchen facilities.
There is some relief - if guests stay at least three weeks they are eligible for a 10 per cent discount.
That will mean a three-week stay in September costs $6615, whereas if you booked in tonight for the same duration, you would pay $660.
Other accommodation providers near Eden Park contacted by the Herald yesterday all confirmed their rates were increasing for the cup, some by more than double.
A double room at the Quality Inn West End on Great North Rd can normally be booked for $123 a night, but a staff member said the rate would be about $250 during the tournament.
And the rate for a queen-size room at the Bavaria Bed & Breakfast - within walking distance of Eden Park - will jump from $175 to a top price of $490 on the date of the final.
Motel Association chief executive Michael Baines said $350 for a room without a bathroom was clearly unreasonable, but didn't reflect accommodation rates during the cup.
"We're seeing more and more properties releasing rooms onto the market ... At the moment, we're not seeing enough demand to be able to justify prices at that level."
Because game schedules would lead to spikes and then troughs in demand, increasing prices during busy periods was necessary, Mr Baines said.
The chief executive of tournament organisers Rugby New Zealand 2011, Martin Snedden, has previously said that charging fair room prices for the expected 60,000 cup visitors will be critical to ensuring the event's success.
"Irresponsible profiteering within any aspect of hosting the event as a nation and we'll suffer badly," he wrote in a Herald opinion piece last May.
"The consequential reputational and financial damage will be significant."
Contacted yesterday, Bond St Motor Lodge manager Vicki Heaven defended the rates and said they were deliberately high to ward off rugby "yahoos" from the 60-room premises.
"We've got a lot of permanent people here, and they were all thinking we were going to throw them out. And we said, 'No way'.
"So the boss just said to make 10 rooms available [for Rugby World Cup guests], and make sure they're high-calibre people. And they will be if they can pay that money."
The lodge's website invites guests to "choose Bond Street Lodge for Eden Park lodging" and prominently advertises its position as "one of the closest accommodations to the big Eden Park stadium".
Ms Heaven said nine of the 10 rooms had already been booked out to cup visitors, for varying periods of time.
Musician Joe Walsh discovered the price hike after inquiring about a room for an uncle who will be visiting from Ireland for the tournament.
He thought the lodge would be ideal as it is only a minute's walk from his own one-bedroom Mt Eden home.
"It was only about $35 a night. So we thought, 'Well, even if it's twice the price, $70 is still cheap'," said the 32-year-old.
"But then she sent me an email saying it would be nearly $6000 for 19 nights ... I looked at it and thought, 'Somebody is taking the piss'."
Mr Walsh believes such prices could taint New Zealand's reputation.
"I could go out and buy a caravan and stick my uncle in that for cheaper ... I could probably even build a new bedroom. It's madness."
WHAT YOU GET: RWC ACCOMMODATION
BOND ST MOTOR LODGE
* $350 a night.
* Single bed.
* Shared bathroom.
* Shared kitchen.
* Own TV (Sky).
* Own fridge.
QUALITY INN WEST END
* About $250 a night.
* Double bed.
* Ensuite bathroom.
* LCD TV.
* Tea and coffee making facilities.
* Shared use of indoor pool.