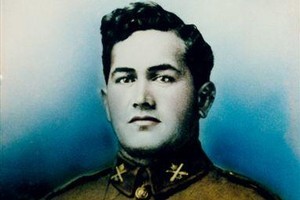 It makes Alfrieda Thompson smile wryly that her war-hero father named her after a girlfriend he had during World War I.
Private Herbert Arthur Johnson had an eye for the ladies, exemplified leadership on the field but probably drove his superiors to distraction with insubordination off it.
He is also one of three brothers and uniquely, a father, who all served during World War I.
The whanau's honour roll starts with father Harry, a Pakeha, also known as Henry or Tupu. He is joined by Herbert and other sons James and Henry, the baby of the group who never returned from the Great War.
Mrs Thompson grew up down the road from the farm owned by her father's brother James at Hikurangi in Northland. Raised by her mother's family, she was not close to her father but is proud of his service.
In October 1917, war records show "Bert" was recognised for "conspicuous gallantry and devotion to duty" after capturing an enemy position in France, which had been raining machinegun fire on to his soldiers.
He was awarded the Distinguished Conduct Medal, second only to the Victoria Cross. It followed an earlier citation for the Military Medal for other acts on the Western Front.
But while he led from the front in battle, and survived a gas attack, he was in trouble from the moment he stepped off the ship in Egypt, where he disembarked with the 1st New Zealand Expeditionary Force.
His records are littered with incidents such as drunkenness, going AWOL, discharging his weapon in public and striking a non-commissioned officer in the Military Police.
How her father had the time or opportunity to have a German sweetheart was a family mystery, Mrs Thompson, 77, said. But with his green eyes he was a born ladies man.
"My father named me. An uncle told me he had a German girlfriend, but mum didn't have a clue. He was a real Casanova."
Another descendant, Steven Johnson, published a book about Mrs Thompson's grandfather. Born in 1863 he was 51 at the outbreak of war, well over the upper limit of eligibility of 46.
Mr Johnson's source material was Tupu's journal entries - taking in his early adult forays into gum digging, breeding horses, and whaling.
He had 13 children with Emerina Kaire, known also as Emily.
"He was an adventurer, a bit of a rogue. He was rough and tough - all of the Johnsons were."
Family legend has it that neither Tupu nor his wife knew of their son Henry's departure until his ship had sailed, Mr Johnson said.
Records, however, show a Whangarei judge had a final, determining say.
Henry was conscripted in October 1916, age 20, but that same month he appeared in court as a defendant. The case was dismissed conditional on his enlistment.
A capable soldier, he had risen to lance corporal by 1917, but relinquished the rank and left for France in May, serving as a rifleman and stretcher-bearer.
He fought at Passchendaele, where New Zealand lost the most men ever on a single day - 840 - on October 12. Evacuated on the 14th, Henry died on the 15th. It was a loss Emerina found hard to bear, Mr Johnson said.
"I think she blamed Tupu for glamorising war. She was a strong woman, the backbone of that family, but she was heartbroken by it."
Less is known about James, aged 27 in 1914, the eldest of the trio who served. One niece, however, has memories of a kind man late in his life.
For Mrs Thompson, remembering the war contributions of her father and uncles is important. While Maori service in World War II is celebrated, Maori contributions to the first conflict are less well known.
Another whanau member, Ben Dalton, 54, has been putting together a larger photo memorial, complete with medals, for rehanging on the wall that honours the dead at Parawhenua Marae in the Far North.
His family have long retold his great-uncles' war exploits. "You often wonder what was really behind those stories. If anything, the true story outdoes the legend."