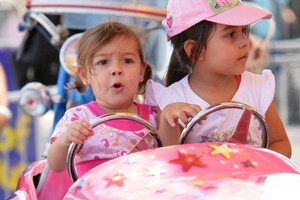 Organisers of Auckland's Royal Easter Show are promising to "get it right next year" after complaints the event is overpriced.
Entry cost $20 for adults, $10 for children aged 3 to 15 and $45 for a family pass. Rides, parking and food were extra. A five-minute trip on the Turbo Booster costs $12 and the bouncy castles $10.
Natalie Marsh of Waitakere took her daughters Mia, 4, and Taylor, 2 to the show yesterday and spent $100 in 10 minutes.
"It's a double whammy. You get charged an entry fee and pay for parking and tickets on top. Kids under 5 should be free."
The family prepared a picnic to keep costs down.
Dawn Tucker of Mt Albert bought Ariana Smith, 2, a $15 Dora the Explorer helium balloon. "You pay high prices at events like this but Easter is a time for treats."
Roy Allan of Titirangi didn't have a problem paying $24 for hot chips and hot dogs for himself and sons Luke, 10, and Sammy, 9.
Mark Walsh of Onehunga said $8 for a baked potato was "reasonable for a fair".
But Sarah Hodgson of Takapuna, who took her 6-year-old son Sam, said rides should be half the price: "If they raise the entry fee they could cap the rides at $5."
Nicole Cox of Mt Eden said $10 for the bouncy castle was a "bit much". "The kids only wanted a little go ... they only spent 10 minutes on it."
Complaints also appeared on the show's Facebook Page: "It's overpriced and boring now," Louise Gordon said.
Head of publicity Will Roffe said organisers were sympathetic. "With a double-dip recession wages haven't kept up with the cost of entertainment and it's caught us out. We want to get it right next year."
He said rides were run and priced by Mahons Amusements and their prices were based on rental fees for use of space.
"We'll be meeting after the show and looking at how to change for next year and better meet the needs of more people."
Roffe said for a $45 family pass five people could see attractions including New Zealand's biggest art show, a cat show and a Pacific Island village, but he understood "most kids are there for the rides".
Some people were disappointed there was no circus this year but Roffe said "their prices went sky high and we couldn't afford them".
Organisers were considering an all-inclusive pass to cover rides and entry in future years.
The number of visitors is down, with 4000 fewer yesterday than the Saturday last year.
Roffe blamed bad weather and "people watching their pennies".
The show is open 9am to 6pm today and tomorrow.