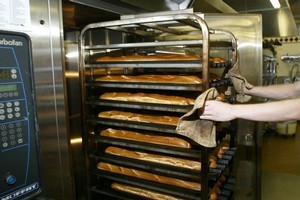 A shopper was disgusted to find a sticking plaster in a bread roll from a New World supermarket.
The 30-year-old Auckland mother found the caterer's blue plaster when she pulled apart a bun from the Southmall store in South Auckland last weekend.
"They were a 12-pack of Tom Thumb bread rolls. We were sitting down to lunch, we had about three or four of them.
"When I opened mine there was a blue plaster in it. We all stopped eating."
She took the bread rolls back the next day. "They offered me two free packs - yeah right! I took my money back. They were apologetic but I just wanted to get out of there," she said.
"I'm not going back, it's definitely turned me off. I'm going to buy a breadmaker and make my own in future."
Southmall New World bakery manager An Tran said Tom Thumb rolls were made in-store every day and management was investigating how the plaster got inside the roll.
"We have written a report and sent it to health and safety and head office," he said.
Tran said staff were well-trained and always wore gloves.
"I have no idea how it happened. It was an accident and we will take care to make sure it will not happen again," he said.
He suspected a staff member had a small cut on their arm and the plaster fell off.
"If you have a cut on your arm you can't cover the plaster with a glove.
"As you move around it might fall off and nobody noticed ... There was no blood found on the plaster."