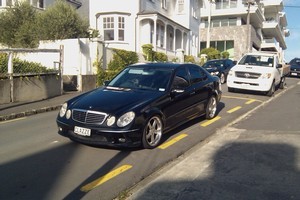 The owner of a Mercedes, ridiculed for parking over a driveway, said he only parked there for two seconds - and nosy neighbours should "lay off".
Student Clinton Thinn's E-Class Mercedes - with the number plate Clazze - was shown in the Herald's Sideswipe column, parked over yellow lines and blocking a driveway.
But the 24-year-old claimed he only parked there for two seconds to see if he had room and then parked around the corner.
Thinn said he was in the car when a female resident came out and "basically started yelling at me".
He didn't know she had taken a picture and was surprised to see it in the paper the next day.
"I thought 'are you serious? Do you have nothing better to do?' I don't really think it's fair to put it in the paper. It's a bit over the top."
Thinn said, as the owner of a Mercedes with personalised number plates, he was often the target of unwanted attention. "I have to watch where I park because of things like that."
And his message to the woman who took the picture: "Just lay off."