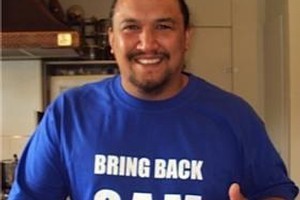 Producers of MasterChef are facing a backlash from fans of ousted finalist Cameron Petley. In a shock elimination last Sunday, the unassuming chicken farmer left the show for his botched attempts to recreate a complex dessert, the chocolate tower of terror.
The 32-year-old father of five from Putaruru became an audience favourite for his modest Kiwi qualities.
And advertising experts predicted a Petley victory could have great commercial spinoffs.
Fans who thought he would go all the way to the final this week have launched a "CAM-paign" to show the judges they got it wrong.
They are encouraging people to buy "Bring Back Cam" T-shirts, which are for sale on Trade Me, and to join a Facebook group to show their support.
Petley was typically modest this week. He said he deserved to be eliminated and he supported the remaining contestants. "A lot of people are saying they're not going to watch the show now that I'm not there. The five people left - each one of them deserves to be there," he said.
"I wasn't happy with what I put up [in last Sunday's episode]. I wouldn't have been happy staying with that," he said.
The meat-lover has admitted baking was not his thing "and it never will be".
Like the fans, Judge Simon Gault was sorry to see Petley go. But he was adamant he and fellow judges Josh Emett and Ray McVinnie made the right decision.
"You can't say you really like Cam so you have to keep him. He didn't perform on the day and that's what MasterChef is about," he said.
But Gault refused to rule out a return to the screen for Petley: "You'll have to watch and find out."
Petley wasn't giving away anything about the rest of the series, either. But he confirmed he was considering moving to Auckland for his career.
"It's a big move for me with five kids - I'm discussing it with my wife."
Gault has offered to help Petley enter the cooking industry.
HEAD CHEF STRIKES FEAR
The gloves are off in tonight's episode of MasterChef - and that's just one reason for a telling-off from a "scary" cook.
The remaining five contestants are whisked to the luxury Langham Hotel in Auckland to cook dishes from the gourmet in-room menu.
The contestants have to make all the elements from scratch and learn new technical skills.
The three judges are joined by five of the country's top chefs and restaurateurs.
The hotel's executive chef, Volker Marecek, demands five-star excellence and strikes fear in the contestants.
"Boy he is a scary chef. I don't want to get on the wrong side of him," said contestant Michael Lee.
He does so after forgetting to put his gloves on while working in the kitchen.