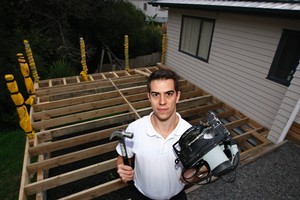 Thought you'd spend your long weekend doing a bit of DIY? Under the Super City's noise control rules you're not allowed to, one man has discovered to his cost.
The Auckland Council's noise control team has told him that hammers, nailguns, circular saws and other power tools for construction around the house are considered too loud to use on Sundays.
The West Aucklander's local board chairwoman says the rules are appropriate for commercial construction but "excessive" when extended to all Sunday DIY activities, and she wants a say on how council officers enforce them.
Ariel Wilson, who owns a house near Massey, has been building a carport and deck for the past four months with the help of a builder friend. They usually work on Saturdays, but after some miserable weather last week, took up tools again late on Sunday morning.
A council noise control officer soon arrived to check the noise levels.
"They told me I couldn't use a hammer or any power tools, including my nail gun, Skil saw or drop saw on Sundays," Mr Wilson said.
He received a 72-hour warning that he must avoid another violation or risk a $500 fine and confiscation of his tools.
He had trouble, however, finding out what exactly amounted to a violation. "What really amazed me was that after I got the warning notice, I asked when I could safely work on my deck, and they said, 'You can't. We can't tell you when you can use them'," Mr Wilson said.
"So I asked what about Monday to Friday? Is that acceptable?"
He spent two days on the phone with council officers but failed to get an answer. "It's just a DIY construction - I'm doing it for myself. I'm not sure that anyone really knows about the policy," Mr Wilson said.
"I imagine the number of people who could get caught out would be just about endless."
Henderson-Massey Local Board chairwoman Vanessa Neeson said she felt the rules were excessive for DIY.
"You try to be considerate of your neighbours, but often with the way people work these days, the only day you've got is Sunday."
The local board would like to have a say on the "draconian" enforcement, Mrs Neeson said.
Council compliance manager Carole Todd said the Super City had inherited rules from the old councils.
Several areas of Auckland - at least all of former Waitakere, Auckland City outside the central business district and Rodney - prohibit noisy construction on Sundays. But the noise needed to be both "excessive" and "unreasonable" to fall foul of council rules, Ms Todd said.
The noise from lawnmowers, for example, was excessive but would be considered reasonable at weekends as long as it was during the daytime.
"It is a reasonable activity that you would expect to occur at this time and location and so it is reasonable," Ms Todd said.
"However, using this same lawnmower on the same lawn at 2am would be considered excessive noise."
Noise control officers made the assessments based on their judgments, she said.