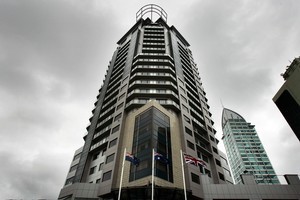 The owners of several apartments in a luxury hotel complex on Auckland's North Shore have lost their battle to sue the old North Shore City Council in a multi-million dollar leaky building row.
The Court of Appeal has upheld an appeal by the council which means the owners of three apartments in the 23-storey Spencer on Byron Hotel in Takapuna cannot sue the now-defunct North Shore City Council for negligence after the hotel became a leaky building.
Repairs, which have yet to be done, could cost $20 million.
The court also rejected an appeal by the owners of 249 individual rooms in the hotel. Those owners wanted to overturn an earlier High Court ruling which said the rooms, which were rented to paying guests, were bought on a commercial basis and for that reason the council could not be sued.
Today the Court of Appeal overturned the High Court ruling and said the residential apartments were only a small part of the overall use of the building.
The Auckland Council's claims officer, Sally Grey, said the courts had earlier determined the council owed a duty of care to residential owners but not to commercial building owners.
"There has been some grey area around mixed use. So this decision has been important to the council to clarify the law around whether a council owes a duty where it is predominantly commercial with a minority residential use.
"So this decision says no, the council does not owe a duty for that minority residential use in a largely commercial development."
The Court of Appeal awarded the council costs for what was a complex appeal.
The Auckland Council took over the North Shore City Council last year as part of the super city amalgamation, and Ms Grey said the costs of the appeal were not yet known.
The Court of Appeal said the Spencer on Byron was said to be suffering from widespread defects in the roof, roof edge, decks, balustrades, cladding and joinery.
It said extensive remedial work was needed and the total repair cost was $19.4 million. The owners had also been seeking compensation for lost rental income or alternative accommodation costs of $2.3m and general damages of $4.3m.
Ms Grey said the council was very pleased the issue had been resolved.
"There have been a couple of grey areas that have created this very expensive litigation and it is really helpful to have the Court of Appeal come out and resolve it for us."
She said the ruling could have an impact on similar buildings around the country similar to the Spencer on Byron which was "predominantly a hotel with a few residents on top."
- NZPA