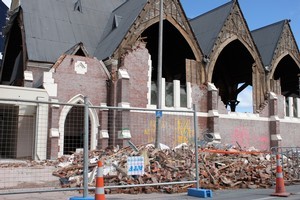 The congregation of the Knox Church in Christchurch will join two other displaced congregations to celebrate the resurrection of Jesus on Sunday - in a funeral home.
The Bealey St church, badly damaged in the February 22 earthquake, was last night added to the list of buildings in the city that will require a partial demolition.
Yesterday's additions bring the total number of buildings to be demolished to 231, with another 81 buildings set for partial demolition and 36 needing work to be done to them to be made safe.
The 131-year-old church is among scores of heritage buildings damaged in the quake; 81 heritage buildings so far face full demolition, 22 require partial demolition and 20 need work to be made safe.
Despite being added to the list, Knox Church's Reverend Dr Geoff King said the future is uncertain.
"We still don't have enough information to give a definitive answer," Dr King said.
"[The building] looks a lot worse than it is. There is obviously visible brick damage, but under the brick it is in fairly good condition."
Engineers have told Dr King the wooden pillars are still secure. Work will be done to strengthen the pillars, the bricks that litter the site will be removed and the building will be waterproofed until a decision on the church's future is made.
No matter what happens, the building will never look the same.
"It is impossible for us to do a complete heritage rebuild, but we may be able to keep some of the old building," Dr King said.
While communication from the authorities has been lacking on occasion, Dr King was confident those in charge know what they are doing.
"We are not going to wake up tomorrow and find a bulldozer going through the church ... but we have to be realistic about the future."
Though the future of the church is in the air, Mr King said the congregation will grieve properly in the future for what they have lost.
"It is pretty sad. I've been there eight years - members of the congregation have been there for 80 years."
"But whatever happens to our building ... our community is about more than buildings. There will be life beyond this."
Tomorrow, the congregation will share a Good Friday service with St Giles in Papanui and on Sunday will join two other congregations at the Westpark funeral chapel in Burnside for an Easter Sunday service.
"I guess it is ironic to be having a resurrection service in a funeral chapel," Dr King.