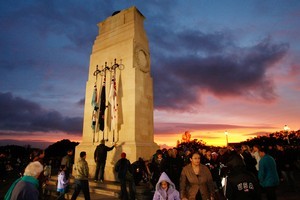 "Greater love has no man than this, that he lay down his life for his friends."
Those words of Jesus Christ, uttered this night as the first Easter loomed, and fulfilled on the first Good Friday, provide a fitting theme for April 2011.
Over this coming weekend, Christians throughout the world will contemplate and celebrate afresh the inexpressible mystery at the centre of their faith: that Almighty God - in his passionate, unconditional, eternal love for all mankind - allowed his perfect, sinless, only Son to be born fully human into the world, to reveal in his life, works and words the very nature of God, and to lay down his life so that every man, woman and child might be reconciled to the Father.
And, in an unusual coincidence of sacred and secular liturgies, on Monday, Anzac Day, a nation will remember and mourn the deaths of thousands of its sons in war. They, too - cheerfully or fearfully, willingly or unwillingly - laid down their lives for their friends. They, like Jesus, died so that the powers of darkness which strove to capture and imprison the world were put to rout.
Believers who have ultimately been ushered by Christ into the presence of God will have been unsurprised to see in the ranks of the battalions of the legions of the Almighty the shining faces of husbands and fathers, brothers and sisters, relatives, friends and neighbours whose blood stained the hills of Gallipoli, the mud of the Somme, the sands of El Alamein and a hundred other battlefields so their friends and neighbours might remain free to pursue life, liberty and happiness.
When Jesus Christ cried from the Cross, "It is finished!" and his soul fled his bruised and broken body, we are told darkness descended upon the earth, that there were earthquakes, and that the veil in the temple - which since time immemorial had separated the altar of God from the people of God - was torn in two. In all three powerful images reside the fundamental truth of Easter: that as Christ died he took the sins of the world upon himself; that in so doing he won the last, decisive battle with his eternal enemy Satan; and that the upshot was that peace could finally and forever be declared between God and his people.
That is easy to say with the benefit of more than two millenniums of hindsight. At the time, Jesus' death brought nothing but despair and desolation. Frightened, confused, bereft of hope, those who had faithfully followed him throughout his ministry cowered and moped in a locked room.
Peter, the apostle on the rock of whose faith Christ was ultimately to build his Church, was on the point of deciding to go back to his fishing boat.
"It was great while it lasted," they might have said to one another.
"But now it's all over."
And then, as Easter Sunday dawns, the reality of God's loving plan for all people is revealed: Christ has risen from the dead; his victory is not just over sin, but over death.
"He is not here: for he has risen as he said," the angel sitting beside the empty tomb told two of Jesus' women followers on that fateful morning. And years later the apostle Paul was to explain it thus: "For the wages of sin is death; but the gift of God is eternal life through Jesus Christ our Lord."
To the Christian, that gift, offered to all mankind on that first Easter, is truly ineffable; it is too great for description in words. To be understood, this supreme love gift of God has to be received; the moment it is received it is understood. And eternal life begins at the moment of belief.
This gift of life means ordinary men and women can be filled with the love of God, the love of self, the love of others; can be made fully human and fully alive.
And God's supreme love offering to all is available every minute of every hour of every day - to any who will receive it.
On Monday, while the sacred words of Jesus, "For God so loved the world that He gave His only begotten Son, that whoever believes in Him should not perish but have everlasting life," still echo in the minds of the faithful, we will hear again the profound and timeless words of a stanza of Laurence Binyon's For the Fallen:
They shall grow not old, as we who are left grow old.
Age shall not weary them, nor the years condemn.
At the going down of the sun, and in the morning,
We will remember them.
And all of us who observe in reverence the liturgies of Easter and the liturgy of Anzac Day, from Reveille to Last Post, can take comfort from these words of Jesus Christ:
"Peace I leave with you, my peace I give to you ... Let not your heart be troubled, neither let it be afraid."