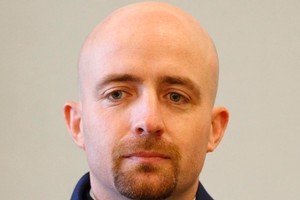 A man who shot a police officer four times, leaving him for dead, has been sentenced to 18 years jail with a minimum 10 years non-parole.
Neshanderan Rajgopaul, 29, was found guilty last month of attempting to murder Constable Jeremy Snow in Papatoetoe in December, 2009.
Rajgopaul shot Mr Snow four times when he and his partner Constable Robert Cato stopped to check a suspicious car parked in the driveway of house.
The officer was rescued by armed police as he came close to dying from blood loss.
Justice Patrick Keane gave Rajgopaul the maximum sentence for attempted murder.
"You could only have had one intent and that was to kill him and you almost succeeded," Justice Keane said.
He added four years for Rajgopaul shooting at his associate.
Rajgopaul maintains his innocence.
His lawyer Ron Mansfield asked the judge to take into account that the shooter did not return to kill Mr Snow, despite knowing the officer was wounded.
"The shots were fired indiscriminately and in my submission, the shooter would have had little knowledge of where the bullets were landing."
Mr Snow also addressed the court and told the court that he had lay on the ground with three wounds, losing blood and fearing for his life.
"I basically said: 'f***. Ok, what do I have to do to survive?"'
Mr Snow said he feared that if he lost consciousness, he may die before colleagues arrived to take him to hospital.
Doctors operated on his punctured femoral artery and shattered bones for eight hours that morning.
Mr Snow told the court that he still had anxiety and sleeping issues and that it would be a further six months before he would be back on frontline duties.
Rajgopaul stared straight ahead while the lawyers made submissions, Mr Snow read his victim impact statement and Justice Keane's sentencing.
At trial last month, Rajgopaul admitted being a firearms and drugs dealer but denied ever firing a gun at another human being.
His claim that Mr Snow was shot by an associate was dismissed by the jury.
As well as the attempted murder charge, Rajgopaul was found guilty of one charge of firing a weapon with intent to cause grievous bodily harm, guilty of three charges of unlawfully possessing a firearm, and guilty of one charge each of possessing a class A drug for supply and receiving stolen property.
Mr Snow this morning told the court of the moment Rajgopaul shot him four times.
He remembers checking his wounds and realising he had sustained a life threatening injury to his left leg.
As blood pumped out, he told himself he could not fall unconscious or else he would die.
The trauma has had a lasting effect on his health, he said.
He is now suspicious of people, struggles to sleep and is emotionally detached.
Rajgopaul was found not guilty of another charge of unlawfully possessing a firearm.
He was also found guilty of two charges of assault using a firearm as a weapon relating to incidents between September and December 2009, by the jury of six men and six women.
The court was told he had previous convictions for being an accessory in an aggravated robbery, carrying an 8cm knife in public and possession of methamphetamine.
Outside court today, Rajgopaul's lawyer Ron Mansfield said he would be appealing his conviction and sentence immediately.
"He maintains his innocence vehemently," Mr Mansfield said.
- with NZPA