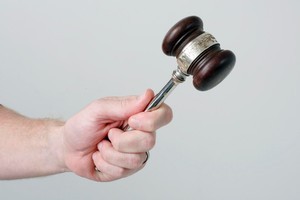 When Toni Tulafono approached her pastor for help over relationship issues she was having with her partner, she was surprised to be offered "immigration advice" instead.
Ms Tulafono said when she revealed her Samoan partner was in New Zealand unlawfully last year, Pastor Kauapi Lutelu Salanoa told her that for a $200 "donation" he could assist her partner with getting New Zealand residency.
She did not accept his offer, but is aware of several Pacific Islanders who did engage the Seventh Day Adventist pastor as their immigration agent.
Yesterday, Lutelu, a pastor at a church in Avondale who also claims to be a prince from Tuvalu, pleaded guilty in the Auckland District Court to six charges of giving immigration advice without a licence.
The offending happened between September 2009 and last September. One of the charges is representative, which relates to further offending.
Lutelu faced a further three charges, but his lawyer Sanjay Patel said he understood they would be dropped at sentencing.
Outside court, Lutelu said he had "helped" more than 200 people, mostly overstayers from the Pacific Island, with their immigration matters since 2001.
"As their spiritual leader, I feel it is my responsibility to help them when they are facing a problem," Lutelu said.
"I am not a criminal, and would not be seen as one by the previous Government. I have been turned into a criminal only because of legislation changes made by this Government."
Since May last year, people giving immigration advice are required by law to be licensed under the Immigration Advisers Licensing Act.
Under the law, unlicensed advisers face fines of up to $100,000 and or imprisonment of up to seven years.
"I have applied five, six times to get a licence, but the authorities have told me no, you have to wait," said Lutelu.
"During that time, there were so many people still coming to me for help and are so desperate, so what was I to do?"
He denied charging them a fee, but said many offered "cash donations" which he used to pay the clerk.
The relative of a Cook Islands overstayer, who did not want to be named, said he went to Lutelu for help in 2009 because he thought it was "only natural" and a "sensible thing" to do.
"We can't afford the thousands of dollars in fees that licensed immigration advisers and lawyers charge," he said.
"Most Pacific people are Christians, devout Christians, and it is only natural for us to turn to our church leaders for help. For me, it was just a sensible thing to do."
Community magistrate Joana Sihamu asked for a pre-sentencing report from probation and a psychological report.
Lutelu was remanded on bail to reappear for sentencing in June.
The Immigration Advisers Authorities said yesterday that it would not make statements or comments on the matter until after sentencing.
Lutelu was told he could not contact the complainants and he must report to the Mangere police station twice a week.
In an unrelated case last week, another man Gerard Otimi was found guilty of running a passport scam preying on Samoan and Tongan overstayers who paid $500 to be "adopted" into his Maori hapu for a "right to remain in New Zealand".
The Herald also reported last Saturday of a second scam, where Pacific Island overstayers are paying up to $370 for "worthless" Aotearoa citizenship certificates sold by a self-styled Maori chief Amato Akarana-Rewi from his Otara home garage.