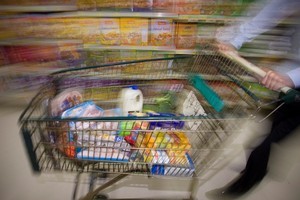 Food producers say they would risk a public backlash if they remove "best-before" labels from products in New Zealand.
Britain is introducing new guidelines to better inform shoppers and make them more reluctant to throw out unspoiled food.
Households in New Zealand were nearly as wasteful as in Britain - an Australian study found t New Zealanders annually throw out food worth $750 million.
Its authors suggested confusion over best-before and use-by dates was partly responsible.
But the British move has had a mixed reception in New Zealand.
Food science experts said labels were limited and consumers needed to be better informed of the health risks of particular foods.
But producers were concerned about the effectiveness and feasibility of changing every food label.
Food and Grocery Council chief Katherine Rich, who represents food producers and manufacturers, said removing best-before dates could be a step too far.
"We would risk a consumer backlash. Consumers want more information, not less, and removing the best- before could leave them in the dark.
"You would need at least five sentences [to explain health risks] on a very tiny amount of packaging."
Ms Rich felt the best approach to reducing food waste was to better educate shoppers about the definition of best-before and use-by labels.
She was concerned that removing a best-before date would result in people throwing more away, because of uncertainty about a product's shelf-life.
Food Minister Kate Wilkinson said yesterday she did not plan to follow the proposal to scrap best-before labels.
"Unfortunately, there will always be food waste. It's not possible to force people to eat everything they buy - parents have that battle every dinner time with their kids."
She said the best-before labels applied only to pre-packaged food.
"So produce such as fruit and vegetables, which probably comprise a significant proportion of wastage, aren't captured anyway."
A transtasman review of food labelling in January did not identify date marking on products as a problem.
Ms Wilkinson said best-before dates provided a useful, simple guide for consumers.
"I haven't seen any advice that suggests removing them and introducing new, more complicated labelling is going to be of any use to New Zealanders."
She said she would watch the British policy change with interest, but had no intention of following its lead.