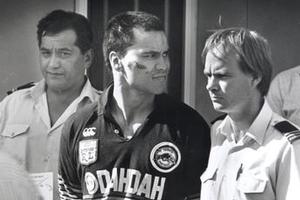 A gangster who bashed policemen while on parole is set to be released from prison a year early despite concerns about his propensity for violence.
John Gillies was jailed for seven years in 2005 for assaulting two policemen and possessing cocaine and methamphetamine.
He has 106 convictions, 34 of them for violence, including one for stabbing Gisborne policeman Nigel Hendrikse with a screwdriver in 1993.
A Parole Board panel today released its decision to free him from prison in May.
It said Gillies had shown increased insight into his problems dealing with anger and violence and had an improved ability to deal with difficult incidents in prison.
"The Board does note that Mr Gillies has been well-behaved in more recent times and that he is showing signs of maturity. He turns 40 years of age next month and appears to be focused upon now trying to reintegrate into the community and to have the support of his family.
However, the board said Mr Gillies was still assessed as a high risk offender with close links to the Mongrel Mob.
He had also shown unwillingness to undergo a drug counselling programme in prison, its decision said.
"Our main concern has been with what is seen as a high risk rating that Mr Gillies has, no doubt contributed to by the fact that he has in the past escaped from custody and committed serious and violent offences.
"Mr Gillies has articulated that he is well aware that one of the factors relating to his offending is his gang connections and that some of his family are, of course, members of the Mongrel Mob."
Gillies was set to be released from prison on May 17, 2012.
An array of special conditions were imposed on his early parole, including that he abstain from all drugs and alcohol and stay at an appointed address until November unless he is given permission to leave by his parole officer.
He was also required to undergo a psychological assessment and receive drug and alcohol counselling.
An appearance before the Parole Board in 2007 saw him ordered to do drug counselling before he could be considered for parole.
Gillies was one of four Mongrel Mob members awarded compensation and an apology from the Crown in 2000 after they said they were tortured and abused by guards at Hawkes Bay's Mangaroa Prison in 1991 and 1993.
The Crown Law Office, acting under an Official Information Act request, said the total amount paid did not exceed $325,000.
He was also the subject of controversy when it was revealed he had a large "Mongrel Mob Forever" tattoo removed from his face during 15 $300 laser sessions paid for by taxpayers.