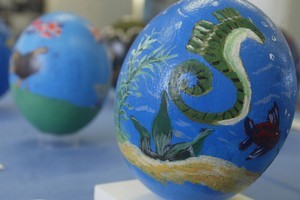 Two years ago, in my daughter's second year of school the girls were invited to enter a 'Decorate an Egg' competition.
Parents were given instructions on how to empty the shell of its contents - presumably in awareness of egg allergies within the school. From memory this process involved a sewing needle coupled with gentle blowing.
My daughter carefully made felt-pen squiggles around her egg and added a smiley face. It was pure six-year-old artistic expression and she was justifiably proud of her creation.
"Mummy, I bet no one else has done an egg like mine," she said, as we headed to school to deliver the work.
"I bet they haven't either, Darling," I replied, hoping the note of cynicism would have eluded her. She was oblivious to the fact her felt-pen marks were already fading and that artistic accomplishment was conspicuously absent from both sides of her family tree.
We'd no sooner had this exchange when one of the other school mothers texted me with: "Crikey, we've just put our egg on the table beside an Olympic-sized swimming pool with three egg divers." And that was my first realisation that some mothers take their daughters' 'Decorate an Egg' competition very, very seriously.
Many of the works of egg-based art in the school hall were, quite simply, incredible.
The faux swimming pool had a sparkly blue base divided into lanes and three egg divers with regulation school swimsuits painted on. There were tableaux depicting popular television programmes - complete with meticulously crafted egg characters. There were carefully assembled piles of eggs representing mountain ranges, and there were eggs that looked as intricately decorated as a Fabergé.
And, perversely, it seemed that the most professional-looking creations were attributed to the youngest girls in the school. It had all the makings of a Tui billboard.
I'm not sure if Katie's heart sank as much as mine when she placed her work beside the others. I felt the need to give this some context so after school I did my best to explain.
"You know how we thought the girls were supposed to decorate the eggs? Well, Mummy didn't realise that the mummies were allowed to do it. That's why some of them looked so amazing."
Then, not being averse to a spot of healthy competition myself, I asked, "Next time shall we enter the girl competition or the mummy competition?" She didn't have to think for too long.
"The mummy one," she replied.
Being crafty in the figurative rather than the literal sense of the word, I began hatching plans to brief an artist to create our next egg work for us.
At the very least I'd commission a fine-arts student to do it. Now that I understood how it worked, I was more than capable of submitting a formidable entry. Bring it on!
But, of course, my enthusiasm waned until about two weeks ago when four of us school mums received this email from another mother: "Frigging hell! That egg competition's coming up."
We began hitting "Reply to All" like women possessed.
"I have booked Dick Frizzell for ours," wrote one.
"Me got Ralph booked," I emailed, meaning Hotere, of course.
"In that case I get Picasso," said another.
Our humour probably masked a true fear: what exactly would we make this year?
I'm thinking glue, glitter and fluffy stuff. Maybe Humpty Dumpty? We'll see.