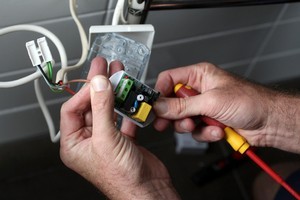 A small, cheap timer could save households $70 million a year on electricity bills, a study has revealed.
Most owners of 1.25 million heated towel rails nationwide are guilty of leaving them on 24 hours a day.
An Energy Efficiency and Conservation Authority study found this habit cost the average household around $175 a year. This could be cut by about $115 if a timer switched the towel rail off while it was not in use.
EECA spokesman Stuart Ross said: "Making the most of the energy we use every day isn't about sacrifice, it's about doing things in a smarter way. Using a timer still means you get a nice warm, dry towel waiting for you when you get out of the shower, but without wasting electricity."
A case study of the Migounoff family, from Pukekohe, found installing timers would cut around 6 per cent off the family's power bill. Jane Migounoff said with three children, two of them with asthma, the family felt it was important to have dry towels.
Two towel rails in their home were left on non-stop, adding to a power bill of $3600 a year.
Electrician Bryan Arthur said the typical setting for a timer was four hours on, eight hours off - enough to have a dry towel.
Timer costs ranged from $30 to $220. A Consumer NZ report found every brand of electrical timer will reduce your electricity bill.
The Migounoffs had two $40 timers installed, with electrician labour costs of $60. These costs would be recouped within six months.
If every heated towel rail in New Zealand had a timer, EECA estimated households would save the equivalent yearly energy consumption of a city the size of New Plymouth.
Households are shifting to more energy-efficient measures, but at a slow pace, says EECA. Mr Ross said despite the uptake of efficient light bulbs, nearly 90 per cent of homes still have old-style bulbs in more than half the sockets.
"Many New Zealanders don't realise that efficient light bulbs only cost $5 a year to run compared with $25 a year for a traditional light bulb."
MIGOUNOFF FAMILY
* Power bill: $3600/year (incl GST)
* Cost of rail timer: $40 each + $60 installation
* Saving: $230/year