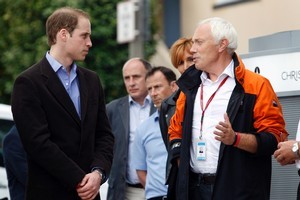 New Zealand's wedding gift to Prince William and Kate Middleton will be a $10,000 donation to the Christchurch relief effort, Prime Minister John Key said yesterday.
The couple have requested that, rather than gifts, wedding guests make donations to one of several causes, including the Christchurch Earthquake Appeal.
Mr Key, who will attend the wedding in London on April 29, said yesterday he and Governor-General Sir Anand Satyanand had decided to give $10,000.
"I know New Zealanders warmly received Prince William when he attended the national memorial service, and this gift will honour the generous spirit shown by the couple themselves as well as help contribute to the needs of the people of Christchurch."
By yesterday the quake appeal had received donations totalling $28.73 million and a further $29.13 million in pledges. Its trustees, who will allocate appeal funds to "community infrastructure" rebuilding and quake relief, are expected to announce their first funding decisions tomorrow.
Australia's official wedding gift is A$25,000 ($33,000) to the Royal Flying Doctor Service.
Prince William, a qualified pilot, visited the Flying Doctor base in Cairns during his trip Downunder after the summer floods and Cyclone Yasi.
The charity is one of 26 the royal couple asked well-wishers to donate to in lieu of a wedding gift.
Meanwhile, Mr Key also said New Zealand would support moves to change the royal line of succession rules and allow a first-born daughter to become Queen. Under the current law, male heirs succeed to the throne before any older sisters.
Britain's Deputy Prime Minister, Nick Clegg, who is responsible for constitutional reform, is looking at ways of changing the rule to grant any princesses born to the couple the same rights as male heirs.
The British monarch is head of state of 16 Commonwealth nations, and any change would need legislation in all these countries.
Republican Movement chairman Lewis Holden called on Mr Key to include the head of state issue, including the succession law, inthe constitutional review.
"The issue of who New Zealand's head of state is should be decided by New Zealanders at a referendum, not by back-room deals in London."
- NZPA, additional reporting Herald staff