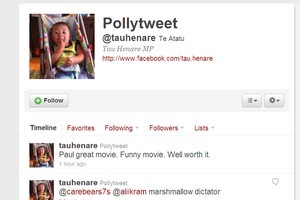 He likes Peking Duck: "a mean feed." He watches Homai Te Pakipaki, supports the Dragons and thinks Donald Trump's hair do will rule him out of the Presidency. He has an 11-year-old dalmatian dog who drinks coffee.
Welcome to Twitter, @tauhenare.
National Party MP Tau Henare has not regained the ministerial posts he once held in his former NZ First life, but his prolific use and mastery of one area at least has earned him the title of Minister of Twitter.
While many MPs use their Twitter accounts for banal diarising of their days, Mr Henare treats his as both circus ring and boxing ring. His tweets range from personal observation - "I hate my fat gut" - to sniping at his opponents live during parliamentary debates and question time.
He is rambunctious, humorous and on occasion even whimsical. Sometimes he is even "on message" for his party, although with a Tau twist: on a bill to penalise recidivist drink drivers: "Sorry guys, you are going down."
The most touching moment for Mr Henare's followers came a week ago when Mr Henare and his foe Labour's Trevor Mallard discovered each other.
The result was, as Mr Henare tweeted about another odd couple, "like Guy Fawkes night on the Thames".
As their followers watched in vicarious glee, there was a brief eruption of insults which settled down to a simmering mutual goading and even the occasional endearment. From Henare to Mallard: "You crack me up old man, grumpy old s***." From Mallard to Henare: "Show some ambition. You mightn't have Hekia's pretty face but you have a good brain albeit generally well hidden."
Mr Henare says he tweets "about anything and everything" since he got into it six or seven months ago.
"This is like democracy to the people. Anybody can be part of pissing me off, or questioning me. In the past you couldn't do that. Half of these people I would never engage with in my normal life. Twitter is my abnormal life."
He has 1122 followers at last count and has sent more than 5000 tweets.
MPs who use Twitter only to say which ribbon cutting they went to are wasting a precious resource. "That sucks. It's not real." Mr Henare sees it as a valuable tool for a backbench MP.
"You've got your ministers and they say what they want but us poor backbenchers, we've got to toe the party line, blah blah blah. And that's really cool for discipline, but with Twitter there's a whole lot of people who would never ever have listened to anything about the National Party. I would say the majority [of my followers] are not your regular National Party follower, but it's important the National Party talks to those people in a way they understand."
Whether the National Party agrees with this theory is debatable - in the hands of Mr Henare, the anarchy of Twitter is a dangerous weapon. However, he says he has never been reprimanded for his tweeting.
"It's coming. There will come a time when I say something I shouldn't have. I'm very careful ... well, I'm not really."
Exhibit A: after discovering someone was a "bloody lefty": "Stopper your sniveling and realize I don't represent you and don't want to either, go talk to Darien Fenton."
He acts as his own censor and is wary about replying to barbs from people he doesn't know.
"That's a bit dangerous. There are people out there who are trying to trap us. The people out there trying to trap me are the people who hate National and want one of us to take the big fall. But if you have that in the back of your mind, you'll be careful if you reply."
He has occasional regrets about a tweet. He quickly reneged after he told someone to "STFU" [shut the f*** up]. There are undoubtedly some wishing Mr Henare would follow his own advice to that tweeter.