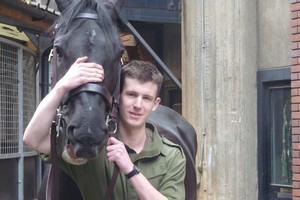 Two years ago Kiwi Trooper Blair Newton had never been on a horse.
Now he's looking forward to escorting Prince William and Kate Middleton back to Buckingham Palace on 10-year-old Gurkha in front of millions.
Trooper Newton, 22, is a soldier with the Life Guards of the Household Cavalry Mounted Regiment, a ceremonial regiment of the British Army at London's Hyde Park Barracks. He will ride one of the 160 horses either providing a Sovereign's Escort for the Queen and Prince Philip or a Captain's Escort for the bride and groom, as the wedding party travels from Westminster Abbey.
It will be his first ceremonial duty with the regiment after a year of mounting the Queen's Life Guard at Horse Guards Parade, near the palace. His proud parents will be watching the nuptials from their home in Christchurch.
"They're chuffed about it. It's going to be on in the evening back home, so I think Mum's having a wedding party for everyone and seeing if they can spot me on TV.
"I'm not nervous or anything. We've practised so much. It's probably just a good thing to get over and done with."
Trooper Newton and other soldiers on Friday showed off their riding training, kit preparation and ceremonial uniforms to dozens of members of the media from around the world. He joined the army two years ago after quitting a science degree at Canterbury University.
"I always wanted to be a soldier, and I wanted to get out of New Zealand and see the world.
"I like being in London, it's an awesome area. At Horse Guards it's just a surreal experience. You literally get your picture taken 100 times a day."
Trooper Newton did 14 weeks of basic training at ATR Bassingbourn, outside Cambridge, and another 14-week horse-riding course in Windsor.
"It's all pretty new. My father's into trotting horses but I'd never ridden a horse."
A typical day starts at 6am in the stables, working with the horses until lunchtime. Soldiers then clean their riding kit which can take hours. One day last week he finished at 9pm, spending most of the time waxing his boots. He has been training Gurkha for the big day since February so there are no worries he'll play up.
Trooper Newton hopes to next year join the Household Cavalry Regiment at Windsor, which provides a reconnaissance force in armoured vehicles and is often posted to Afghanistan's front line.
Lieutenant Colonel Dan Hughes, commanding officer of the Mounted Regiment said: "The soldiers and officers can be very proud of their efforts over the last month. We have standards of excellence, and I am happy to report that soldiers are living up to them during this arduous time. Morale is very high and we are upbeat in light of our crucial role in the royal wedding."