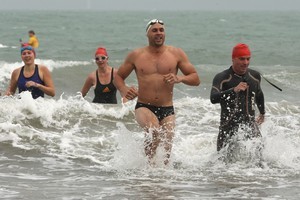 Warriors legend Awen Guttenbeil was the odd one out at King of The Bays yesterday.
Surrounded by wetsuit-clad swimmers braving a chilly and choppy Rangitoto Channel, Guttenbeil had to make do with the trusty Speedos - after his wetsuit was stolen.
"I wore my wetsuit the first time for a training swim," he told the Herald on Sunday. "I took it off, hung it on the clothes line, and the next morning it was gone."
Guttenbeil figured he'd wear board shorts instead, for the 300m swim.
"But when I got down there, everyone looked so professional, so I stripped down to the Speedos I had from a few years back when I was in the Kiwis."
He emerged from the water, looking slightly pink - but chuffed with himself.
"I thought I could get away with the Speedos because there was nobody I knew - but now you're going to put the photo in the newspaper!"
Also among the 1200 swimmers were TV3 sports reporter Michelle Pickles and Marieke van Zon, 64, who took to the water just two months after being knocked from her bicycle by a newly-qualified driver.
"He nearly killed me," she said. "I'm very grateful to be alive."
The longest race on the day was a 1500m swim won by Dylan Dunlop-Barrett in a blistering 12 minutes and 43 seconds.
Event organiser Lisa Powlesland said there was an air of "infectious euphoria" after the final race of six events in this year's Ocean Swim Series.