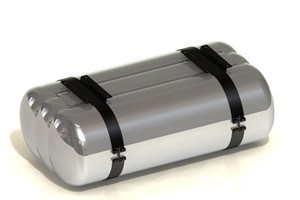 A lawnmower mechanic is on the verge of making his fortune after selling his design for a flat LPG tank to an Australian car maker.
The deal could make millions for the venture's Kiwi backers, and spark interest from other large manufacturers searching for alternative fuel technologies.
Peter Ellmers and his Auckland-based company Propane Performance Industries (PPI) have spent eight years developing the flat tank, which takes up less room than round ones. The car company, which cannot yet be identified because of a confidentiality agreement, will launch a range of LPG-dedicated large cars in August.
Ellmers said testing showed the vehicles could go 850km on one tank of LPG at a cost of about $40, without any loss in performance.
Once production starts in July, PPI's Chinese manufacturers will turn out 80 tanks a day.
The technology was developed by an American munitions and rocket motor manufacturer.
Ellmers, who started his working life in the family lawnmower business on Wellington's Cuba St, went to see them after reading about the flat tank on its website - and came away with the world rights to commercialise it. "It kind of blew me away because I didn't have anything, really - just a dream and the chit-chat, I suppose."
There followed years of testing and a lot of cash turning the technology into a commercial proposition.
The American company sent equipment needed to make the tanks to Brisbane boatbuilder Guy Obren, an old school friend of Ellmers' and an investor in the business. The Australian deal was a major stepping stone for PPI because it meant other car companies would now trust it. The investment had been huge, Ellmers said. "You've just got to be convinced about the whole thing."