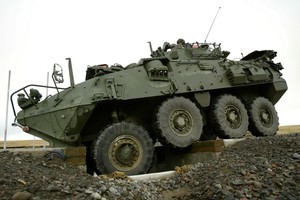 The Defence Force has sent light armoured vehicles (LAVs) to Afghanistan to protect a team working in the same area where Lieutenant Tim O'Donnell was killed last year.
Lt O'Donnell, 28, was killed in an attack on a routine patrol in Bamiyan province in August.
Commander of Joint Forces Air Vice Marshal Peter Stockwell announced increased protection for the area today, saying the LAVs had been brought in to support the reconstruction team working in Bamiyan.
"The vehicles bring us the capability we need to keep our personnel safer and operate more effectively in the north eastern area of Bamiyan where the security threat is higher," AVM Stockwell said.
"While the New Zealand provincial reconstruction team has been able to successfully provide security to the province for eight years now, the northeast is the most demanding part of our area of operations and requires a higher level of capability.
"This area of the province was where Lt Tim O'Donnell was killed last year, and it is where we have most often come into contact with armed insurgents."
AVM Stockwell said the LAVs had undergone an upgrade programme, and they provided the best mix of protected mobility, firepower and surveillance.
"The deployed LAVs offer more protection than the present vehicles we are operating, they have a very effective range of weapons and an excellent optical system for surveillance," he said.
"We have considered other types of vehicles, but the upgraded LAV provides the optimum protected mobility, combined with other capabilities, for our troops as they go about their tasks of providing security for the civilian population."
- NZPA