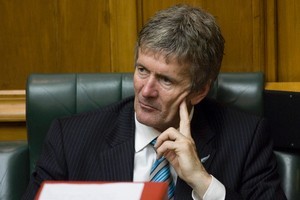 Clark came down on Tamihere like a ton of bricks. Goff came down on O'Connor like a ton of feathers. Not since John Tamihere went completely over the top back in 2005 with his infamous "front bums" remark about women in Labour has one of the party's MPs insulted colleagues to the extent Damien O'Connor has done.
O'Connor, however, has gone one better (or worse) by offending not just one, but two sector groups under Labour's umbrella by claiming the party list is drawn up by "a gaggle of gays and self-serving unionists".
Helen Clark came down on Tamihere like a ton of bricks. Phil Goff has come down on O'Connor like a ton of feathers.
Tamihere was immediately placed on extended leave and effectively told by Clark to start looking for a new job.
In O'Connor's case, an apology of sorts to his leader yesterday - and a belated one at that - plus a yet-to-come apology to the caucus at its weekly meeting today have been deemed by Goff to be sufficient punishment.
That O'Connor's apology to Goff was for the distress he has caused the leader - rather than for what he actually said - made Goff's bus ticket even more sodden before he flopped it across the MP's wrist.
Much will hinge on the nature and sincerity of O'Connor's apology to the caucus - in particular whether it satisfies those MPs with trade union backgrounds or membership of Rainbow Labour, a party sector group which represents gay, lesbian, bisexual and transgender people.
Yet another week has begun with all the political talk being about Labour's latest self-inflicted wound rather than Labour talking about what Labour really needs to be talking about.
O'Connor will consequently get a bollocking from other MPs, not least because of the awful timing of his criticism of colleagues, which seemed designed to attract the attention of conservative-minded voters in West Coast-Tasman, the seat he will be trying to wrest back from National in order to stay in Parliament now he has forgone a place on the list.
The difficulty is that should the meeting demand stronger disciplinary action against O'Connor, Goff's initial response will look to have been weak.
Goff's problem is that O'Connor's barely disguised accusation that Andrew Little is gunning to become party leader immediately resurrected all the questions of recent weeks surrounding Goff's hold on the job.
Those in the left faction of the caucus angry with O'Connor will be suspicious that Goff's relative leniency reflects the pair's membership of the party's right faction - and that Goff needs to keep O'Connor on board as an ally.
Goff, however, has other reasons to put the matter to bed. He simply has to bring an end to Labour's seemingly never-ending haemorrhaging.
Goff is also punting on there being no repeat episode. Unlike Tamihere, who had been riding his luck for some time, O'Connor is not someone who has made a habit of making extravagant remarks at the expense of the party.
Goff may also point out to his critics that O'Connor's withdrawal from the list after recognising he would not get a high enough slot may be punishment enough, given that current polling would suggest the odds are against him winning West Coast-Tasman.
In that respect, Goff does not need to tell O'Connor to find a new job. The writing is already on the wall of Labour's caucus room.