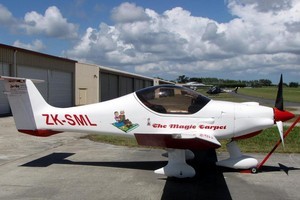 The body of former Olympic yachtsman Geoff Smale has been recovered from the wreckage of his microlight aircraft near Nelson.
Because of the difficult terrain, an air force Iroquois was needed to winch three police staff and an air force medic down to the crash site this afternoon.
They found Mr Smale had been thrown from the plane on impact and was well clear of the aircraft, which had been on fire, police said.
The wreckage was found on Mount Duppa in the Bryant Range, about 20km northeast of Nelson, about 2pm.
Mr Smale, 86, was flying from Auckland to Ashburton on Saturday but was reported overdue.
The Rescue Co-ordination Centre New Zealand (RCCNZ) began a search for him that evening.
Radar tracking had indicated Mr Smale had flown in the area around Mt Duppa before the signal was lost.
The wreckage was found at one of the key focus points of the search efforts, RCCNZ Search and Rescue Mission Coordinator Ramon Davis said.
"While the weather was good overall on Saturday, there was cloud and rain in the area around the Bryant Range at the time Mr Smale was flying there."
He said the search area covered very rugged terrain and dense bush, which had made it a slow, painstaking process for the observers on board search aircraft.
Spokesman for the Smale family Daniel Henderson said they were devastated at Mr Smale's death.
Family had gathered around his wife Shirley to support her as she was officially informed by police, he said.
"The news has just come through. Everyone is just getting to grips with it. All the family are around at the family home. They're with Shirley."
Mr Henderson said family had held out hope Mr Smale would be found alive through the two day search.
"It's one of those things, you're hoping for the best but preparing for the worst."
Mr Smale sailed for New Zealand at the 1968 Olympics in Mexico. He learnt to fly at the age of 82 and had flown between Auckland and Ashburton a number of times.
His body has been taken to Nelson.
- NZPA, NZ HERALD STAFF