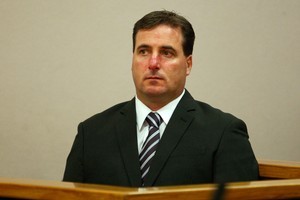 The jury deciding whether a police sergeant is guilty of assaulting five prisoners in west Auckland has retired for the night.
Jurors at Auckland District Court started its deliberations about 11.45am to consider whether Martin James Folan was guilty of six charges of assault. It retired for the night at 5pm and will return at 10am tomorrow.
The charges relate to five incidents while Folan was working as a sergeant at the Henderson Police Station.
He is accused of one count of elbowing a teenager in the face in a police car, two counts of hitting a man's head against a concrete floor in the police station, one count of kicking a man in the groin or stomach, one count of putting his hands in a choke hold around a prisoner's neck, and one count of kneeing a man in the groin.
A charge of injuring with intent to injure over the knee in the groin allegation was dropped after Judge Roderick Joyce accepted there was no evidence to link Folan's knee to the victim's injury, which required his testicle to be removed.
Judge Joyce said the reliability and credibility of witnesses was key to the case, and although nine police officers had given evidence against Folan, it was the quality, not quantity, of evidence which was important.
Crown prosecutor Mark Zarifeh argued in his closing address on Friday that Folan had a propensity for violence, and had applied unreasonable force out of anger.
Key to the Crown case was the testimony of Folan's colleague Sergeant Wendy Pickering, who told the court the sergeant had confessed to her that he choked prisoner Minora Kea because he "just lost it".
Mr Zarifeh said Folan had no answers to her allegations when he gave evidence.
Defence counsel Richard Earwaker said the case needed to be looked at with "a healthy dose of reality", given the unreliability of witnesses and unsatisfactory police investigation.
Mr Earwaker argued other officers were under immense pressure when giving statements against Folan, and some may have been acting out of self-preservation.
Although some officers may have handled the situations in question differently, Folan had never acted outside the law, Mr Earwaker said.
- NZPA