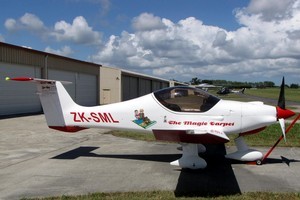 Rescuers have appealed for help in their search for a former Olympic sailor and prominent businessman missing since taking off on a microlight flight two days ago.
Geoff Smale, 86, was flying solo from Auckland to Ashburton on Saturday but was reported missing after failing to reach his destination by 5pm.
Search and rescue teams scoured a large area between the North Shore and Ashburton yesterday without finding any sign of the him.
Mr Smale was carrying a personal locator beacon, radio, radar transponder and cellphone.
The beacon has not been activated and attempts to contact Mr Smale have been unsuccessful.
Search and Rescue Mission Coordinator Ramon Davis this morning asked anyone who saw Mr Smale's plane between Nelson and Blenheim on Saturday afternoon to report the sighting to the Police.
Several reported sightings have been "enormously helpful" in narrowing down the search area, he said.
"We are sure there are other people out there who have seen Geoff's plane - they may not realise how important their information may be to our search."
Mr Smale's aircraft, registration number ZK-SML, is classed as a performance microlight.
It has a nine-hour flying range and is capable of 250km/h, so Mr Smale would be able to complete the trip to Ashburton without refuelling.
The plane is about 18 months old and has been professionally maintained.
Earlier, Mr Davis said two helicopters were this morning searching about 1300 square kilometres over the Bryant Range and Wairau Valley between Nelson and Blenheim.
That was based on radar data showing an aircraft moving south from Cape Soucis in Tasman Bay at 1.40pm on Saturday, before the track was lost near Nelson, he said.
Two Airforce Iroquois from Ohakea are also aiding the search from a base at Woodbourne Airfield.
Daniel Henderson, family spokesman and general manager of Smales Farm, has thanked the search and rescue team for their efforts.
"The family is confident that everything that can be done is being done."
Mr Smale's wife, Shirley, was at their Campbells Bay home yesterday hoping for good news from the Rescue Co-ordination Centre in Wellington.
She said Mr Smale learned to fly at the age of 82 and was en route to visit relatives in Ashburton.
It was a trip he had completed a number of times in the Dynaero microlight he bought two years ago.
Mr Smale loved flying but Mrs Smale said she never accompanied him on trips because of her dislike of planes.
Family and friends were with her throughout the day hoping he would be found safe.
Mr Smale told family he planned to fly from the North Shore, passing over Wanganui, Blenheim, Christchurch and on to Ashburton.
Harvey Lockie, a microlight enthusiast and friend whose son Bryn sold Mr Smale the Dynaero, said the performance model was kitted out with the latest safety gear.
One notable feature was a ballistic parachute designed to get both the plane and passengers out of rough weather.
"The parachute gets set by the rocket. It's not gentle. It's like airbags on a car. It's rough, it's noisy, it's harsh, but you walk away," said Mr Lockie. "It lowers the plane and passengers right to the ground."
Measuring 12 metres across, the orange and white parachute is designed to be easily seen from the air.
Mr Lockie said he doubted Mr Smale would have used the parachute on Saturday because the weather was settled.
"If he had to use the parachute you would expect he would be talking on the radio saying, 'Oi, I've popped the parachute and I'm on my way safely down.' You wouldn't expect to hear nothing," said Mr Lockie.
"It'll be nice if he's sitting in some valley where he can't be reached by radio saying, 'What took you so long?"'
Mr Lockie said Mr Smale - after decades of sailing and understanding how wind moved off sails - took to flying like a duck to water.
"He's a man I really admire for what he's done. There's plenty of 86-year-olds driving the mobility scooter down to the shops but not too many flying," said Mr Lockie.
"Geoff is a very determined sort of guy. He gets up in the morning and makes damn sure he's going to make use of everyday."
The Herald understands that in Ashburton, Mr Smale planned to visit retired Air NZ pilot Mike Leefe, who introduced him to light aircraft on flights around North Cape, the West Coast, Milford Sound and the Southern Lakes. Mr Leefe is the father-in-law of Mr Smale's son.