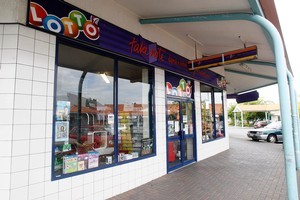 One of the two Powerball winners has come forward to claim their $17.7 million, but NZ Lotteries has not heard from the owner of the other winning ticket.
The tickets shared a record first division, must-be-won Powerball pay-out and were bought at Dannevirke New World and Take Note Dinsdale in Hamilton.
Each ticket won $17.6 million in the Powerball draw and a further $111,000 in Lotto's first division.
"Just spoke to a shocked winner", read a tweet from NZ Lotteries yesterday. "They bought their ticket in Dannevirke. They have asked for privacy."
NZ Lotteries spokeswoman Karen Jones said the owners of the Dannevirke ticket had their win verified in another town.
"They knew they were winners before they went into the store, but even so, it was a big shock when the retailer confirmed it to them."
Ms Jones said she was not surprised that the Hamilton ticket remained unclaimed.
"Sometimes winners like to take a couple of days and turn up at our offices in Wellington to claim. Obviously people are worried about taking Monday off work - it might be a bit obvious in Hamilton if somebody takes Monday off."
In Dannevirke yesterday, Matt Simpson, a chef at The Vault cafe, said the win was the talk of the town, but nobody had heard anything about who the new multimillionaires were.
"No one's come in wanting cases of champagne this morning ... Everyone's had a chuckle about it, because we all showed up to work, so we figure it's none of us."
Chairman of the Dannevirke Chamber of Commerce Suresh Patel said he hoped the ticket-holder was a local.
"Over the years Dannevirke has had its hardships and grief with the closure of the freezing works and things like that. For it to stay in the community would be a great boost.
"The whole Tararua region is buzzing. It's amazing how many texts and phone calls you get from people saying hopefully it's someone in Dannevirke."
Mr Patel said most residents of the Hawkes Bay town of 5500 were low key and he couldn't imagine a red Ferrari gracing the main street anytime soon.
TOP PAY-OUTS
(Powerball, with Lotto included)
* $28.7m October 2010, Papakura
* $22.4m October 2009, Manukau
* $19m April 2008, New Plymouth
* $17.9m May 2006, Kaeo
* $17.7m ( two) last week, Dannevirke and Hamilton
* $16.3m May 2009, Cambridge
* $15.2m August 2005, Mt Roskill
* $14.7m April 2004, Kawerau
* $13.8m June 2010, North Shore